Arts in Education: The Art Center of Waco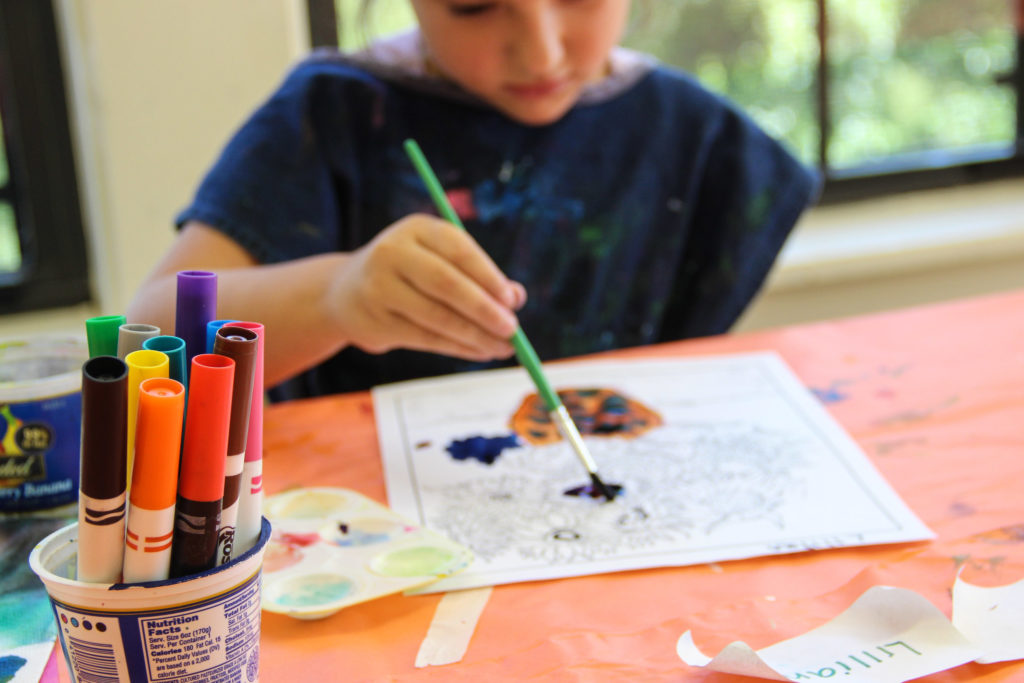 This week (September 11-17) is National Arts in Education Week, so Creative Waco is taking this opportunity to highlight local organizations that are working with children and supporting their growth and development. First up: The Art Center of Waco! The classes below will be offered this fall.
Karen Alleman is their Education Coordinator, and she creates the curriculum for and teaches their children's classes. For more information and dates for each class, you can visit their website or call 254-752-4371 and ask for Megan Legband, the Program Coordinator.
Exploring Great Artists
Select Saturdays in the fall from 10:30-11:30 AM. $10 per child (K-6th grade)
Introduce your children to the great master artists of history through this fun and engaging series with Karen Alleman. During each class we will explore an artist, their style, and experience their methods and ideas through a related art project. Supplies are included. (5-10 kids per class)
This program teaches kids art history in an engaging context and gives them skills in creating art, using mediums such as paint, watercolor, oil pastels, and mixed media. This class is one of the most educationally beneficial for kids because they gain a foundational knowledge of the history of specific artists and get to explore the artist's style by trying it themselves, providing a great foundation for their art studies at school.
A Playdate with Art: Squish, Scribble, Splat!
Select Tuesdays in the fall from 10:30-11:30 AM. $6 per child ($4 per additional sibling). (Infant – Kindergarten)
This "Mommy or Daddy & Me" hour is all about exploring your sensory & motor skills, discovering new materials, and meeting other young friends. During this self-guided hour with Karen Alleman, come explore safe, messy, and unexpected art materials. Please note children must be accompanied by an adult. (5-15 kids per class)
Squish, Scribble, Splat is a wonderful class for young children to be able to discover art in a sensory experience. The projects include out-of-the-box projects like painting with tractor toys, creating edible play-dough, and stamping with fruit, as well as quintessential art projects like painting on an easel. This class is perfect for parents who want to introduce their kids to art without having to come up with the projects or clean up the inevitable mess.
Cookies & Coloring
Select Fridays in the fall from 4-5 PM. Free to all. (Ages 4-12)
Cookies & Coloring is a free art education program taught by Karen Alleman, where children have the opportunity to come with a parent or guardian and eat cookies, learn about a famous piece of art through the Charlotte Mason Picture Study Method, and engage with the art through coloring their own coloring pages. All children must be accompanied by an adult. (10-15 kids per class)
Cookies & Coloring has been an ongoing free art education program for kids at The Art Center. Students will learn how to interact on their own with an artwork through Charlotte Mason's innovative method, and then engage with the art through the coloring pages. This class is essentially a less involved version of Exploring Great Artists.
Superhero Fall Festival
October 29, 2016 from 4:30 – 7 PM. Free to all
Fall Festival is a free community event celebrating fall! Food trucks and live music will be present at the event, as well as many superhero-themed games and activities for kids. Activities will include a superhero training obstacle course, face painting, a kid's mural, and more! The suggested donation for the event is $5 per family. (~1000 people)
Along with enjoying fun games, kids will have the opportunity to paint, color with markers, and create artistically at this free community event. The focus is not solely on art, but it is important to us to provide opportunities for kids to have opportunities for artistic expression at each community event we host and attend.
Holiday Workshop
November 5. 10-11:30 AM. $5 per child (Ages 4-12)
Come enjoy a fun-filled workshop with Deborah Reed-Propst, where you'll make your own keepsake holiday ornaments. Children must be accompanied by an adult. (~20 kids)
This workshop is a way for kids to create a 3D project with a holiday theme. It's essentially a way for us to get kids in the classroom engaging with art in a relevant way to them, and help them discover that art is a wonderful way to celebrate, and to beautify life.
[Photo credit: Megan Legband]