What to expect at this year's Art on Elm pop-up art exhibit
By Madeleine Morren, Communications Intern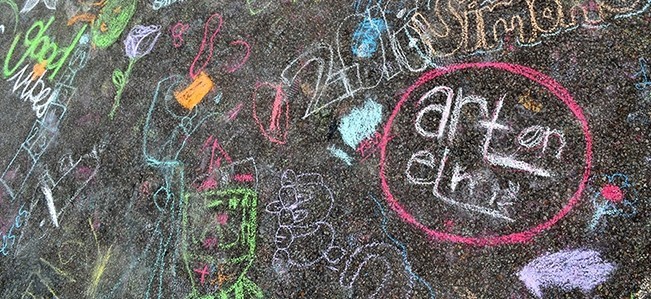 Art on Elm is much more than just a pop-up art exhibition. It will be a weekend filled with beautiful art, live music, guest speakers, delicious food and artisan vendors. Even if you are not an art aficionado, there is something for everyone at this cultural festival!
Local artists are invited to apply for a chance to be a part of the event. Artists can submit pieces for either the Juried Exhibition or for an artist booth, and artisans can apply for a spot in the Arts and Crafts Market. Applications can be found on the Art on Elm website and will be accepting submissions until March 15.
The festival is April 6-7 located in historic East Waco and here are a few things you won't want to miss:
Splash on the Color!
Pick out your most colorful outfit and kick off the weekend at the preview party, Splash on the color! It's going to be a great way for the community to come together and celebrate the growth and vitality of the arts in Waco's cultural district. There will also be live music, hors d'oeuvres and drinks. Tickets for the event can be purchased on the Art on Elm website.
The Juried Exhibition
Artists are allowed to submit a maximum of three pieces for a chance to have them displayed at ArtPlace on 418 Elm Ave. This is a great opportunity to see unique creations ranging from paintings and graphic designs to ceramics and sculptures by artists from across the state. The best part is you can buy some of the artwork!
Arts & Crafts Market
After walking through the gallery, head on outside and check out the Arts & Crafts Market. Artisan and food vendors will be set up along Elm Street selling crafts and delicious local food!
Elm Tea Fest
For all the tea lovers out there–get ready. Because this is an event not just for tasting teas (though that is an added bonus), it's about learning everything there is to know about tea. So even if you aren't the biggest fan of teas, you can still come and enjoy learning about the history and culture of tea. And who knows, maybe even find one you like!
Details for each event can be found at the Art on Elm website