CWCW: 6 ways to get involved with the Waco Civic Theatre
By Madeleine Morren
Communications Intern
This post is an extension of the Conversations with Creative Waco radio program on 103.3 KWBU fm, where we take you behind the scenes of art and culture in Waco. Catch us live on the fourth and fifth Friday of every month at 11:30 a.m. and 8 p.m.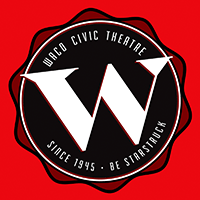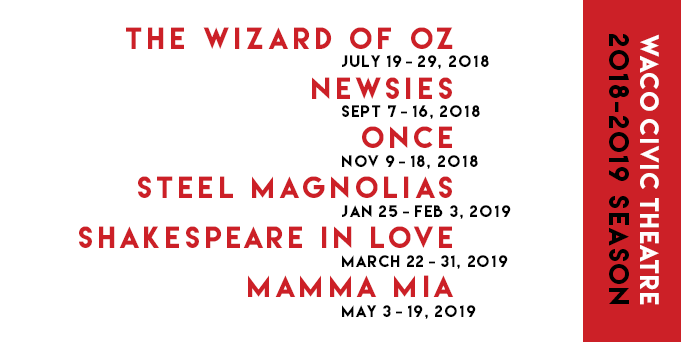 There's a popular saying among the theater community that there are no small parts. For many decades, the Waco Civic Theatre has worked diligently to ensure everyone in the community has a part to play, whether it's acting on stage or helping behind the scenes. The non-profit is dedicated to bringing quality live theater while providing a creative outlet to the community.
On this week's Conversations with Creative Waco, the Waco Civic Theatre's executive director Eric Shephard talks about the exciting upcoming season, and how the support of those willing will be crucial. So tune in today at 11:30 a.m. and 8 p.m. on 103.3 KWBU fm to find out how you can get involved!
Keep reading to learn what's in store for the WCT's new season and how you can get your tickets.
"The Wizard of Oz" July 19 – 29. The classic tale is making its way to the stage and you could be a part of it! Join Dorothy, Toto and WCT as they venture into the land of Oz this summer. But I think we all can agree there's no place like Waco.
"Newsies"–Sept. 7 – 17. Extra! Extra! Read all about it! The newsies will be taking over and they don't mess around. Join them in taking a stand against the money-hungry publishers of New York!
"Once"– Nov. 9 – 18. From a beautiful relationship comes beautiful music. Don't miss WCT's take on this musical drama that's sure to melt any music-lover's heart.
"Steel Magnolias"–Jan. 25 – Feb. 3. WCT is taking us down south to join the feisty ladies of Louisiana. It's sure to be a night filled with love, loss and a whole lot of laughs.
"Shakespeare in Love"– March 22 – 31. You don't have to love Shakespeare to enjoy "Shakespeare in Love." Adapted by Lee Hall from the 1998 film, the story follows a young Shakespeare and how he came to find his muse.
"Mamma Mia"– May 3 – 19 . What better way to kick off the summer than with ABBA? So for all you dancing queens out there, it's time to take a chance on "Momma Mia!"
Tickets and additional information about auditions and how to get involved can be found at the Waco Civic Theatre's website.