Thanksgiving, A Rat, and A Waco Treasure Hunt
By Fiona Bond
Executive Director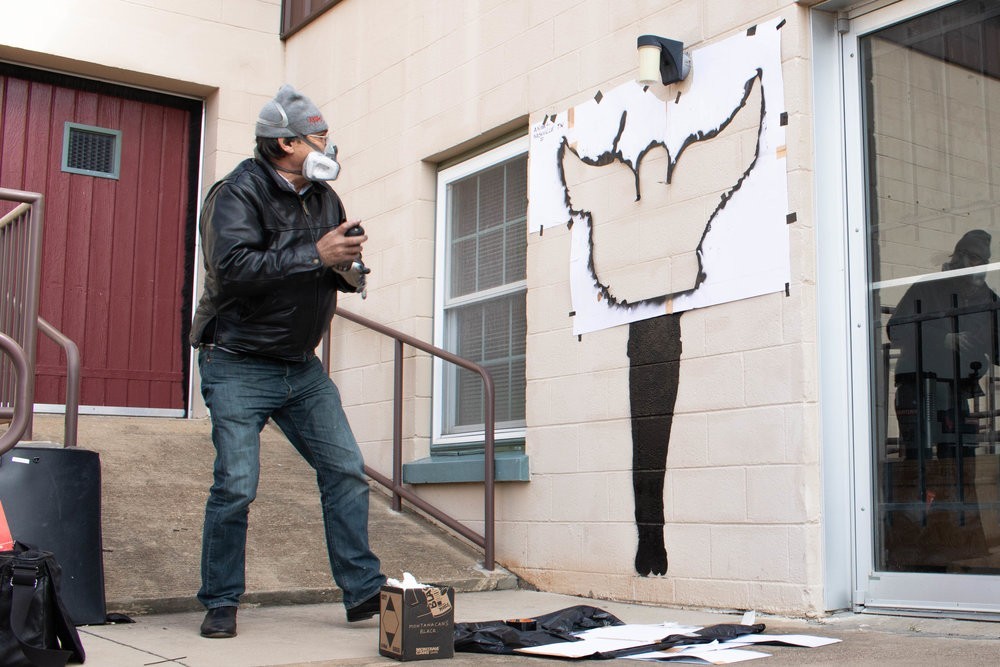 For some, Thanksgiving may come in a can of cranberry sauce. This year, for Creative Waco and our partners, it comes in a can (several, actually) of spraypaint.
Last week, "Blek le Rat," world-famous Parisian street artist left his mark on Waco by painting six walls in the downtown Cultural District. This was a wonderful, culturally defining moment for our city, no matter how you look at it; but this particular project is testament to the vision and "leap of yes" of so many people. We'd like to take a moment to appreciate just what it took to get to this point.
"Blek," born as Xavier Prou, pioneered the use of layered stencil spray-paint techniques to achieve speed, stealth, and artistic vibrancy. His technique became the "go to" method for a generation of iconic street artists, including the infamous (and still technically anonymous) British artist, "Banksy" (of auction-shredding renown).
Our thanksgiving story begins a year ago, when Summer Shine of Luna Juice Bar, saw the movie "Saving Banksy." Being Summer Shine, she promptly tracked down Brian Greif, the star of that movie, to tell him that "Haight Street Rat," the artwork saved in the story, needed to be brought to Waco. Brian said "yes". Rebekah Hagman of Cultivate 7Twelve said "yes" to hosting an exhibition of street art to include the Banksy piece with outstanding work by local artists. The evaluators of Creative Waco's new Arts Match Program said "yes" to a grant for something that had never before been tried in Waco (actually, this was the first time Banksy's street art had been exhibited in Texas!). And Texas Commission on the Arts said "yes" to making a matching grant.
In hindsight, all this sounds easy, but at every step, a "no" would have killed the project.
Thanksgiving #1 is for Summer Shine and every single person in this chain that made the "leap of yes."
Not only did the resulting exhibition, "Writing on the Wall," generate the largest audience in recent memory for a Waco art exhibition, it kindled friendship with street art guru Brian Greif, his love for Waco, and his desire to do more here. When Brian mentioned that Parisian street art suberstar Blek le Rat (also featured in the "Saving Banksy" movie) was coming to the USA in a few weeks' time, and asked if we would consider having him paint some walls in Waco, we were ready for another "leap of yes." Only this time, money and logistics were required within an eyewatering timeline, and a whole new cast of people needed to be ready with a "leap of yes"
Thanksgiving #2 is for the Art Center of Waco staff and board, who provided the most exquisitely designed apartment in downtown Waco for hosting the visiting celebrity artists (kudos to architect Grant Dudley and architectural artist Bryant Stanton).
Thanksgiving #3 is for Terry and Elaine Stevens and Liz Fraley, who helped sponsor this project the moment they first heard about it.
Thanksgiving #4 is for our Board and staff at Creative Waco (who by now are veterans of making the "leap of yes") for taking on the project management.
Thanksgiving #5 is for all the businesses that bravely said "yes" to investing in a work of art on their wall without knowing what it would be! Thank you Brett and Lauren Jameson and partners at Dichotomy Coffee & Spirits and Apex Coffee Roasters, Shane Turner, Jonathan Garza, and their partners at Turner Behringer, Sam Brown, Jacob Martinka, David Stoneking, and the team at Brotherwell Brewing, Claire Sexton and the Board of Art Center of Waco, and the Hagmans at Cultivate 7Twelve.
Thanksgiving #6 is for Rebekah Hagman and her team at Cultivate 7Twelve who hosted artist talks, parties, meetings, meals and tirelessly worked on all the stuff that doesn't get noticed unless someone doesn't do it!
Thanksgiving #7 is for Luna Juice Catering, Brotherwell Brewing, and Balcones Distillery who sponsored the wrap party with awesome food and drink. Mmmmm.
Thanksgiving #8 is for Brian Greif, Xavier (Blek le Rat), and Sybille Prou who poured themselves into our community, talking to high school, college and university students, artists, art lovers, passers-by, business and community leaders. Despite the frigid weather conditions (we promised them a balmy Texas fall), they brought warmth and curiosity to the project, ensuring that each piece of art was significant and meaningful for its context.
Thanksgiving #9 is the realization that Waco has what it takes to pull off something like this. Again. There's more to come! (Let us know if you have a wall!)
Thanksgiving #10 Now you have an awesome thanksgiving treasure hunt! What better way to work off turkey stuffing and impress your out-of-town guests than to discover six new works of art by Blek le Rat in Waco. Did we mention that the treasure hunt starts with a coffee (cocktail?!) at Dichotomy? You can purchase holiday gifts, running gear and art along the way, and end up with a Waco-made beer. That's #SmallBusinessSaturday sorted. #yourewelcome
Blek le Rat Waco treasure hunt:
Violinist: Dichotomy Coffee & Spirits (front entrance), 508 Austin Avenue
Selfie-Rat: Cultivate 7Twelve (The Undercroft), 712 Austin Avenue
Young Chopin: Waco Running Company (wall of parking lot), 700 Franklin Avenue
In Honor of Kurt Kaiser: Apex Coffee Roasters (wall facing Guess Family BBQ), 324 South 6th Street
Young Picasso: Art Center of Waco (north wall), 701 South 8th Street
Victor Hugo: Brotherwell Brewing (south entrance), 400 East Bridge Street