CWCW: Light in the Darkness, a conversation with Dr. Lori Baker and Carlos Colon
This post is an extension of the Conversations with Creative Waco radio program on 103.3 KWBU fm, where we take you behind the scenes of art and culture in Waco. Catch us live on the fourth and fifth Friday of every month at 11:30 a.m. and 8 p.m.
By Fiona Bond
Executive Director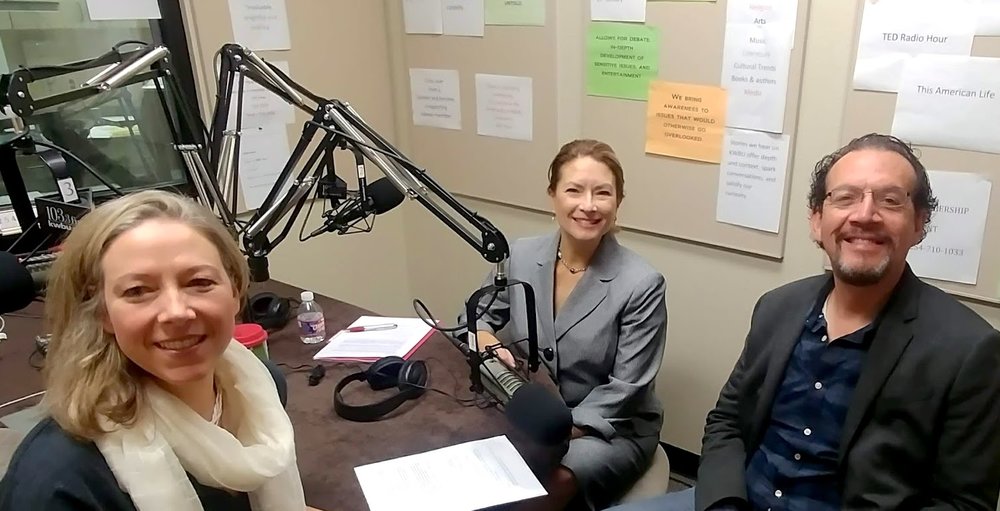 We often hear people describing how the arts bring joy, beauty, quality of life, economic flourishing, make us happier, and make our environment more appealing. This is true and important, and we are daily inspired by these celebratory qualities at Creative Waco.
There is another "superpower" that the arts have, which is harder to define, but perhaps even more vital. It might seem like a strange discussion topic for the holiday season, but at a time of the year when we celebrate light in the darkness and redemption for a broken world, perhaps it is a good conversation to have.
The creative arts – music, dance, theatre, film, literature, visual art – give us language of hope in the hardest of situations. Uncoupled from the clumsiness of political posturing or the inadequacies of rational argument, the arts breathe defiant creation in the face of destruction, order against chaos, and light in the darkness.
We discover it across the arc of human history: In exquisite art buried to honor the deceased; in heartrending music composed and sung in Nazi concentration camps; or in vivid cathedral windows crafted from bombed shards of stained glass.
In December's "Conversations With Creative Waco" on KWBU, I had a chance to talk to two of my "local heroes" who embody this reality through their work.
Carlos Colón is Assistant Director of Chapel at Baylor University. He is a musician, composer, liturgist, and cultural promoter. He was born in El Salvador, and at the age of 14, was forced to flee his home. He took refuge in Guatemala City before coming to the USA in 1986 to study music. he holds a B.M. from Belmont University and a M.M. from Baylor University.
Colón's international heritage, personal experience of civil war, and Christian faith infuse his music, which evokes themes of justice, peace, beauty, human connection, and time. In October 2018, his newest composition, "Te Deum Latinoamericano" was presented as part of the celebrations for the canonization of slain Archbishop Oscar Romero at the main Cathedrals and cities of El Salvador, to more than 75,000 attendees.
Dr. Lori Baker is Associate Professor of Anthropology and Vice Provost of Strategic Initiatives, Collaboration and Leadership Development at Baylor University. She holds a Ph.D. from the University of Tennessee, Knoxville in anthropology and specializes in the molecular and forensic analysis of skeletal remains. She is founding executive director of Reuniting Families, a program that aids in the recovery, identification and repatriation of undocumented immigrants who perish during migration into the United States. Her work gives Lori a powerful but difficult platform as a spokesperson representing painful truths to governments and advisory bodies across the World.
A Couple of Years ago, Lori and Carlos collaborated with film-maker Pilar Timpane to create a film about Lori's work "Lamento con Alas" ("Lament with Wings"). Carlos composed a hauntingly beautiful score which infuses what might otherwise be a bleak story with a dimension of hope.
As they discuss this collaboration, I am struck by the capacity of the interwoven techniques of storytelling (cinematography and music) to de-politicize what is often a hot-button issue and instead, present a story of painful but shared courage, humanity, and light in the darkness.
We wish you and those you love a New Year full of light, hope, and creativity.