14 creative Valentine's activities from the heART
By Kennedy Sam
Director of Marketing and Communications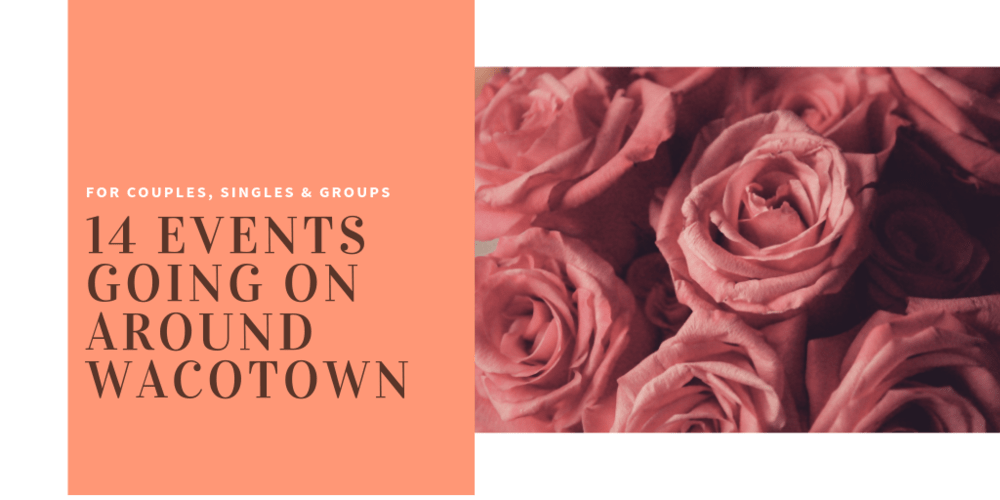 ---
You may have noticed the influx of all things fluffy, pink and heart-shapped because Valentine's Day is right around the corner – tomorrow to be exact. For those looking to step outside the box, Waco is buzzing with creative events!
Whether you're spending the day with your significant other, gal-pals, or celebrating #selflove, we've put together a list of special arts events for everyone. If you're the type that would rather wait until the weekend to avoid the V-Day crowd we've got you covered too!
Wednesday, Feb. 14:
Art Forum of Waco | 10 a.m. – 6 p.m.
For Valentine month, the Art Forum of Waco is hosting an international exhibition of art in various forms related to the heart. Find artwork from Brazil, Mexico, and Venezuela, as well as Texas and New Mexico.
Balcones Distilling | 5 p.m. – 7 p.m.
Catch local musicians Evan Klaras & Greg Bashara and enjoy a glass of whisky. Open to couples, singles and groups.
Valentine's Day at the Martin Museum of Art
Martin Museum of Art, Baylor University | 5:30 p.m. – 7:30 p.m.
The Martin Museum of Art is hosting a special Valentine's Day event in connection with The Neoclassical Gaze exhibit, which will include Torch-lit guided tours, valentine printmaking, live music, and hors d'oeuvres. Print your own Valentine's Day card between 2 – 5 p.m. Tours are at 5:30 pm, 6 pm., 6:30 pm, and 7 pm.
The Findery | 6 p.m. – 8 p.m.
The perfect gal-pal event! Join The Findery for a chalk painting workshop where each participant will create a beautiful DOUBLE-SIDED door hanger, and learn distressing techniques and waxing. Enjoy heavy hors d'oeuvres and drinks to enjoy while you paint. Spots are limited!
Bare Arms Brewing | 6:30 p.m. – 8:30 p.m.
Whether you're solo or with a date, enjoy a pint of Bare Arms' special Pomegranate Joule as you paint. Open to all painters – amateur, experienced or somewhere in between. This is a fun place to experiment, and enjoy yourself.
Valentine's Date Night and an Evening of Spoken Word Jazz
Klassy Glass | 7 p.m. – 9 p.m.
The event will feature live music, spoken word, featuring Mike Guinn, comedy and an open mic for those who want to make a love declaration to that special someone. The ticket will include dinner, wine and a show.
Friday, Feb. 15:
Mammoth Collective Exhibit Opening
Cultivate 7twelve | 6 p.m. – 8 p.m.
Celebrate the opening of a special two-week exhibition that features art from Waco's Mammoth Collective artists. Mammoth Collective is an up and coming group of young female artist in Waco who are creating work that is symbolic, vulnerable, and modern. Enjoy light bites, drinks and mingle with some of these talented women and discuss their art.
Taste by Kissing Tree Vineyards | 6 p.m.
Enjoy wonderful wine, live music by Jennifer Pisarcik & Jon Fox and delicious fine dining!
Waco Hippodrome | 7 p.m.
A young Englishman in the Paris of 1899 becomes infatuated with Satine, a singer at the Moulin Rouge. However, she has been promised by the manager to a Duke in return for funding his next production. As the young lovers meet in secret, Satine's wedding day draws closer but she hides a fatal secret from both Christian and the Duke. Support the Waco Civic Theater's fundraiser.
Till Death Do Us Part – Murder Mystery Dinner
Brazos Theater | 7:30 p.m.
A night of love, marriage, and murder, where EVERYONE plays a role. Will you be the Mother of the Bride, the groom's cousin or the Bride's childhood friend? As friends and family come together for a very special evening, it will quickly turn into a night of mystery and mayhem – leaving one of the guests murdered! As the night progresses, secrets will be revealed, motives exposed and your sleuthing skills will be put to the test. Book your tickets and help solve the murder!
Live Music Weekends at Klassy Glass
Klassy Glass Wine and Bistro | 8:30 p.m.
Listen to The Dave Wild Trio while enjoying a glass of wine and small bites.
Saturday, Feb. 16:
Cultivate 7twelve | 2 p.m. – 4 p.m.
Enjoy selections from local poets or share your favorite poem during open mic.
Jubilee Theater | 7:30 p.m.
The play focuses on a jury's deliberations in a capital murder case. A 12-man jury is sent to begin deliberations in the first-degree murder trial of an 18-year-old man accused in the stabbing death of his father, where a guilty verdict means an automatic death sentence. Catch the play at 7:30 p.m. Feb. 15-16 and 2:30 p.m. Feb. 17.
Sunday, Feb. 17:
Hooper-Schaefer Fine Arts Center, Baylor | 7:30 p.m.
Tony-winning "Peter and the Starcatcher" brings to life the origin story of Peter Pan, and playfully explores the depths of greed and despair… and the bonds of friendship, duty and love. Catch the play at 7:30 p.m. Feb. 14-16 or 2 p.m. Feb. 16-17.
Find out more events happening around town year-round on our calendar page!