Kieran-Sistrunk Fine Art Gallery enriches Waco's arts community
By Bradi Zapata
Sales, Marketing and Events Manager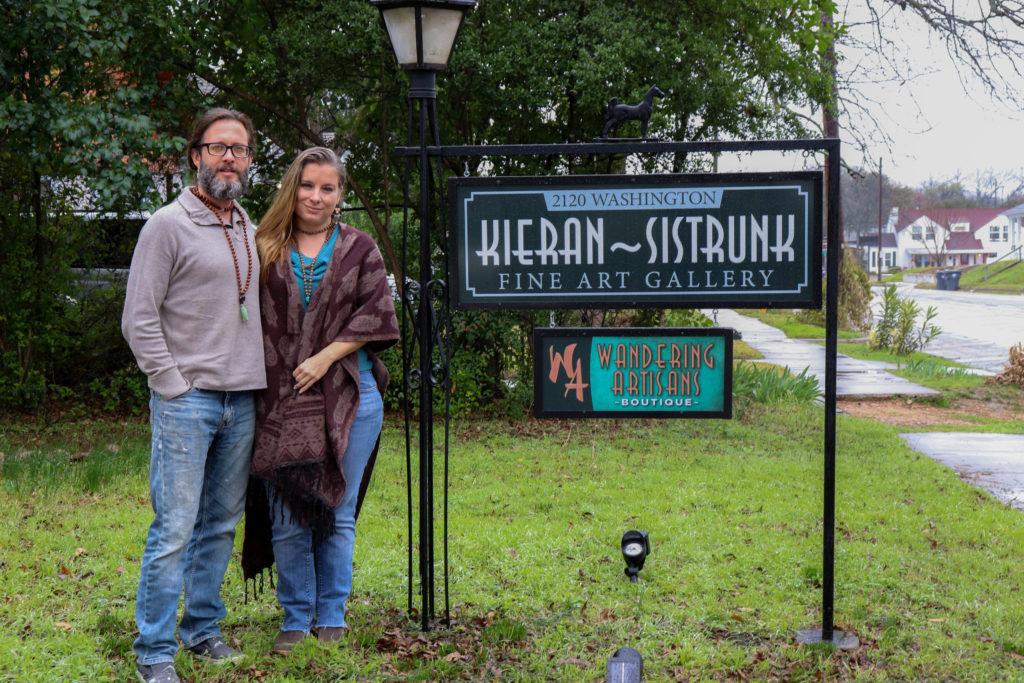 The walls within the Kieran-Sistrunk Fine Art Gallery are illuminated with vibrant colors and intricate details that have been splashed onto exceptional paintings. Owners Mark Kieran and Susan Sistrunk encourage individuals to step away from their everyday tasks and relax by enjoying vibrant art during their grand opening March 1 from 4 p.m. – 9 p.m. at 2120 Washington Ave.
Kieran and Sistrunk have breathed new life into an old, two story house built in 1910. Today, the chestnut stained walls gleam with the perfect blend of vibrant colors in Kieran and Sistrunk's original paintings.
To the right of the main gallery, there is a small room that has been converted into a boutique/work space. The cozy room has one window, which faces the doorway and illuminates the details in beaded necklaces, colorful tunics and Kieran's handmade leather bags. This space is the home of Kieran and Sistrunk's Wandering Artisians Boutique. Even in the rainiest days, this vibrant room exudes feelings of awe and joy for those passing by.
Out back is a spacious backyard, which is currently being converted into a serene garden. Kieran and Sistrunk are working towards transforming this grassy space into a tranquil retreat for yoga and meditation. One of the primary reasons that they opened the gallery was to provide a comfortable space for individuals to step away from their fast paced lifestyles and find tranquility through art.
"We needed a place to be able to express something that isn't commonly expressed in most of society," Kieran said. "We have a tendency to always rush on to the next thing and try to constantly do more, but through art, you can share with people a more peaceful atmosphere."
Before owning the gallery, Kieran and Sistrunk felt weighed down by the fast-paced life style which accompanied their demanding jobs. It was upon leaving these high stress environments, that they found a new love and appreciation for life. "[Opening our own gallery] seemed like an impractical goal when you think about how hard it is to make a living as an artist, but I think that if you're passionate about something, then it will unfold," Sistrunk said.
While Kieran and Sistrunk are new to owning a gallery, they are quite familiar with the eb and flow of Waco's art community, as they have been residents for many years. Due to their active involvement within the arts community, they have noticed a change in the artistic climate within the past five years, predominately in past two years. They largely accredit this to Fiona Bond, Creative Waco's executive director.
"I remember three years ago, it was dead downtown and the first time I met Fiona, she was marching down Austin Avenue with her arms full of Creative Waco tote bags, [she was] a woman on a mission." Sistrunk said. "She's tireless and is still on that mission. When you have people like her promoting the arts, and artists who are on a parallel mission, they inspire change."
Bond helped Waco be recognized as a cultural arts district. Since this achievement, the individual artists and the arts community as a whole have flourished.
"The more of something you have in a community, the more illumination you can bring," Kieran said. "I just think it's cool that Waco is moving in an artistic direction because it brings so many different views together and allows people to be more open minded about things." Likewise, Kieran and Sistrunk aim to give artists a platform to express their individual views and talents through solo exhibitions. On April 5, Deborah Reed-Propst, a mixed media artist, will have the first solo exhibition at Kieran-Sistrunk Fine Art Gallery, lasting one month. Her exhibition will showcase 25 pieces; 13 are brand new and at least eight are retro pieces, one from each of her eight series.
"I'm doing a new piece right now [that features] a jelly fish," Propst said. "I always choose watercolors when I do an under the sea painting because the watery, blended and flowy character of watercolor works well with fish, coral and jellyfish." Propst selected this gallery to unveil her new works because she has been friends with Kieran and Sistrunk for many years and believes that the gallery is beautiful and comfortable.
"I think that it's in the perfect area, I think it' is opening at the perfect time and I think Waco needs a private gallery like this," Propst said. "It's going to have a very positive impact on Waco's art scene."
Kieran and Sistrunk also plan to educate the Waco community by hosting Mala necklace workshops, a beginning meditation class, yoga classes and artist gatherings.