From Artist to Entrepreneur: TFNB & The Greenhouse Grow Local Creative Businesses
Written by TFNB Your Bank For Life
This article was originally posted on TFNB's blog and has been reposted to Creative Waco's platform.
At 712 Austin Avenue, in the heart of Downtown Waco, you'll find a thriving greenhouse — one that swaps plants and pots for artists and ideas.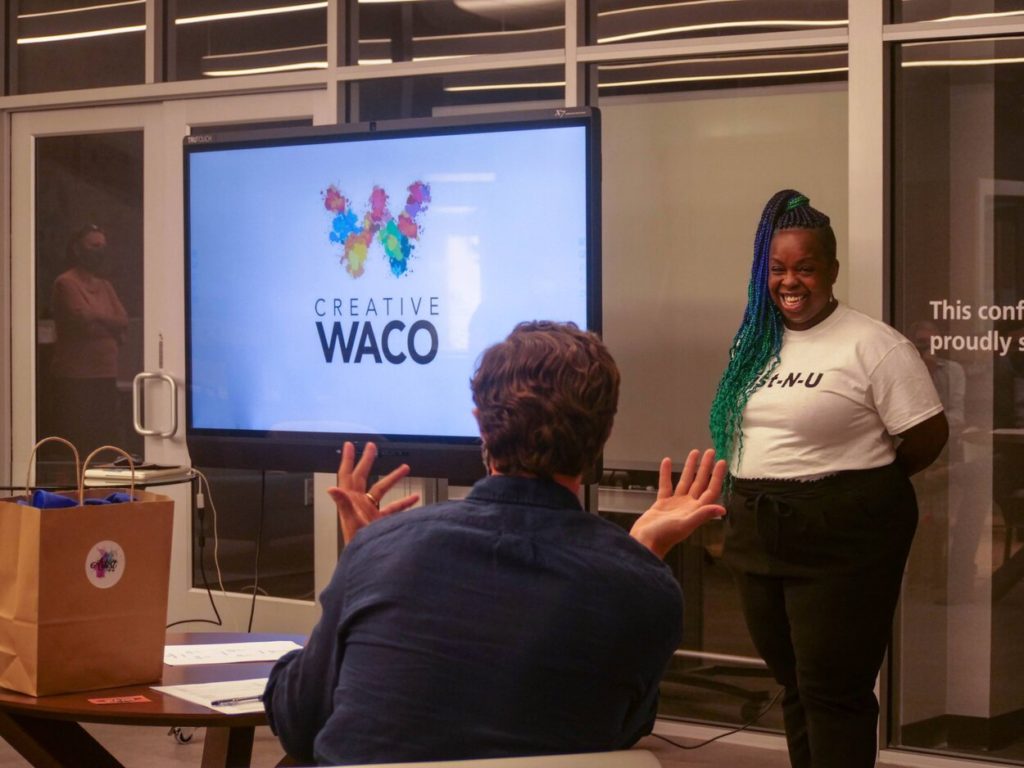 It Starts with a Seed
Luann Jennings, Director of Creative Waco's professional development programs (and an avid gardener to boot) would be the first to tell you that every artist has a seed: a unique inspiration and talent that, given the right conditions, can grow into a successful business.
While artists dedicate time and money to improving their talent, many lack the entrepreneurship know-how to generate an income from their unique skill.
Hear more about the mission of The Greenhouse from Luann Jennings:
Entrepreneurship is key for the success of modern artists, and Executive Director of Creative Waco, Fiona Bond, agrees.
"When you learn to be a musician, painter, sculptor, or actor, you don't always learn business skills that go along with that," said Bond. "But, in this gig economy, that's what everyone needs to be successful."
That's where the Greenhouse from Creative Waco comes in. It gives artists the environment they need to become successful business owners.
Supporting the Arts Supports Waco
A thriving small business community needs entrepreneurs of all types — especially those with a creative vision for the future.
Jason Lavender, Senior Vice President and Director of Strategic Initiatives at TFNB, sees TFNB's relationship with The Greenhouse as a natural partnership. "At its core, the Greenhouse is a financial literacy program that helps artists monetize their talents," Lavender said. "It's only natural to have a community bank support that effort and we're happy to be a part of it."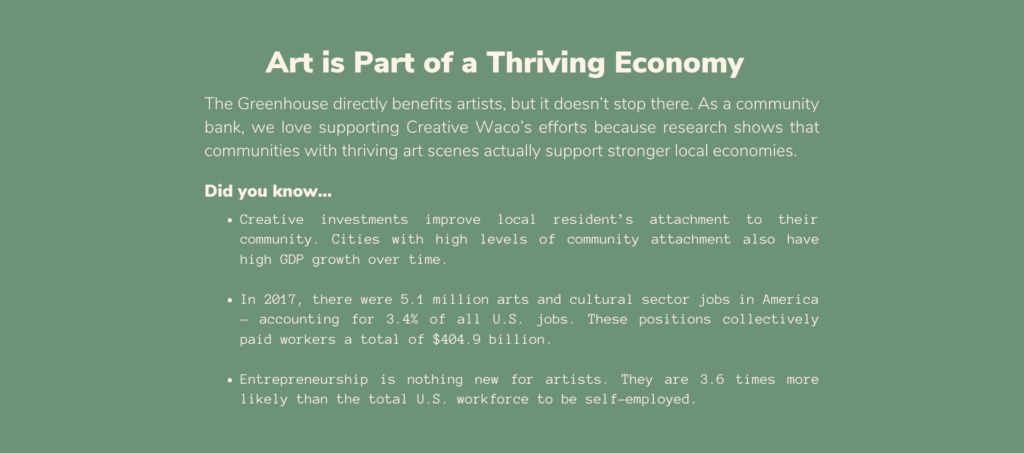 The Right Conditions to Grow
The Greenhouse program is free of charge to artists and creatives who are selected from the applicant pool. Over the course of the six-month program, the participating artists receive:
Extended Training
The Greenhouse lays the foundation of entrepreneurship through a series of digital lectures. Participants watch approximately 20 hours of videos on topics ranging from planning, strategy, customer development, marketing, legal issues for artists, fundraising, and more.
Collaborating with Creative Waco, our TFNB team was excited to help craft some of the financial management curriculum in the program. The finance-focused lessons help artists understand the challenges and opportunities of running a profitable business.
Participants then take part in weekly two-hour "working sessions," to apply what they're learning to their business project and help them in developing their business plan.
Coaching and Mentoring
Participants who complete the first stage of the program move on to weekly coaching and mentoring with Luann Jennings, outside experts, and small "mastermind" groups of other participants. They continue to develop and test their business model, finding valuable guidance from experienced professionals in their own industry. When it comes to digital marketing and web design, We Grow the Co helps participants learn how to utilize digital tools to increase their reach.
The Opportunity for Funding
What makes The Greenhouse so unique is that it doesn't just show artists how to find funding for their business. It connects them to an immediate opportunity to secure it.
Fiona Bond notes that investing in an arts-based business can look very different from a traditional business. "With arts-based business there's often a bigger stretch before investment can take place," she says, "(TFNB) got it. They understood the gap that exists for creative businesses and were willing to come alongside us and help us create this seed funding program."
At the culmination of the six-month program, participants who have developed a viable business plan for their project are invited to the third and final stage of the program.
Working with experienced fundraising and entrepreneurship professionals, they develop a crowdfunding campaign, written application, and in-person presentation about their businesses. The top five candidates then go on to present their business plans to a panel of experts during "Pitch Night," competing for up to $3,000 in funding sponsored by TFNB.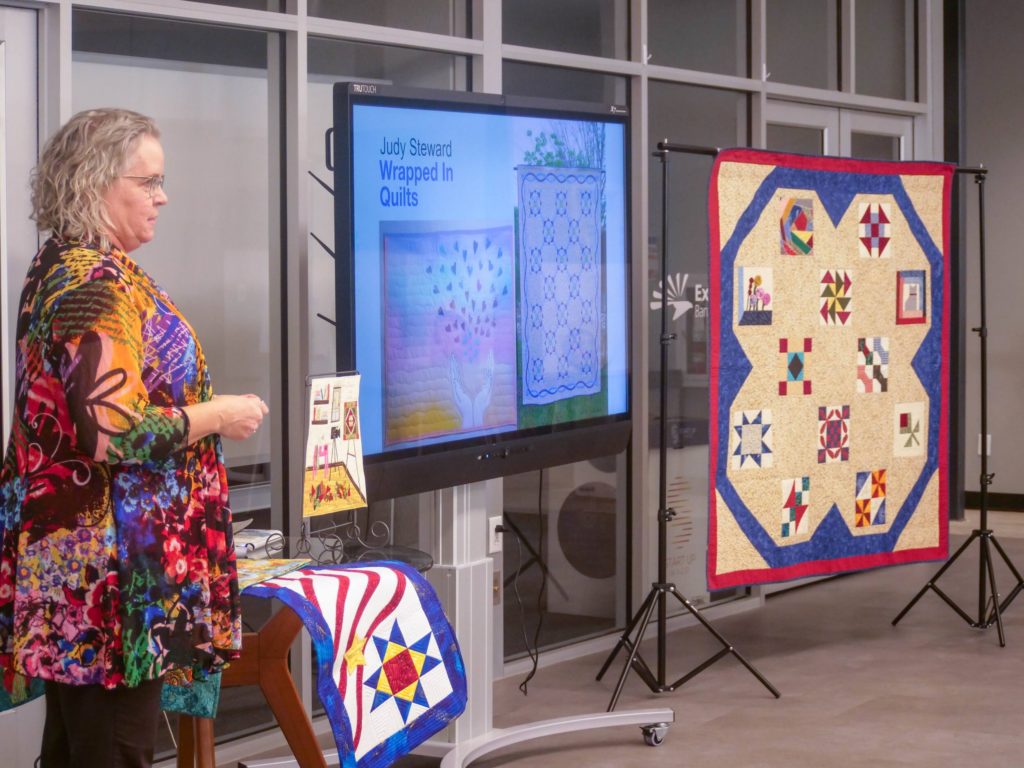 This Year's Greenhouse Grads
In this year's class, Tashita Bibles won first place and $3,000 for her Artist-N-U art bus project. Runner up, Judy Steward, was awarded $2,500 to help take her Wrapped In Quilts courses online. Allie Menchaca, Rhiannon Rosenbaum, Taushey Sias, and Wendy Davis Hogan, each received $1,125 for their projects.
Hear what the most recent Greenhouse participants have to say:
At TFNB, we are so thankful for Creative Waco's commitment to the artists who make our piece of Texas a more beautiful and unique place to live.