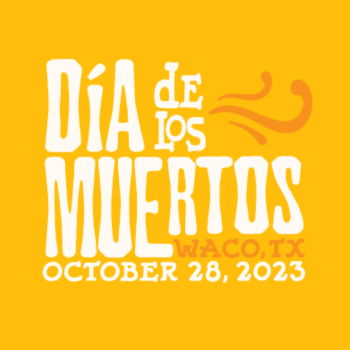 Waco's Día De Los Muertos Parade and Festival is back Saturday, October 28th, 2023!
Día De Los Muertos is our opportunity to honor loved ones and celebrate the beauty of life with our community. Join us in celebrating this beautiful tradition by being a part of the biggest Día De Los Muertos Parade in Central Texas! 
The Parade will be taking place on October 28th in Downtown Waco and will start at 4:00pm. We will have cash prizes, 1st ($500), 2nd ($300), and 3rd place ($200), for Best Individuals or Businesses, Best Non-Profits, and Best Student Organizations. (This will be done through an online community vote).
Early bird registration deadline is September 30th.
Regular registration deadline is October 18th.
¡Una vez más el desfile y festival de Día De Los Muertos de Waco se celebrará el sábado 28 de Octubre!
¡Día De Los Muertos es nuestra oportunidad para honrar a nuestros seres queridos y celebrar la belleza de la vida con nuestra comunidad! ¡Únete a nosotros para celebrar esta hermosa tradición siendo parte del desfile de Día De Los Muertos más grande en el centro de Texas!
El desfile se llevará a cabo el 28 de Octubre en el Centro de Waco y comenzará a las 4 pm. Tendremos premios en efectivo: 1er lugar ($500), 2do lugar ($300) y 3er lugar ($200), para los Mejores Grupos, las Mejores Organizaciones Sin Fines de Lucro y las Mejores Organizaciones Escolares. (¡Esto se decidirá mediante una votación comunitaria en línea!)
La fecha límite para la inscripción temprana es el 30 de Septiembre.
La fecha límite para la inscripción regular es el 18 de Octubre.
 Frequently Asked Questions | Preguntas Más Frecuentes

Novios Section | Sección de Novios
If you would like to participate in the Waco Day of the Dead parade but are not part of an organization or aren't able to submit a parade float, the Novios section of the parade may be your best fit!
The Novios section is free of charge but not eligible for parade contest winnings.
¡Si deseas participar en el desfile del Día de los Muertos de Waco pero no perteneces a una organización o no puedes presentar una carroza, la sección de Novios del desfile podría ser la opción ideal para ti!
La sección de Novios es gratuita, pero no es elegible para ganar el concurso del desfile.
Parade Registration | Registro de Desfile
Parade Registration - English
Registro del Desfile - en Español
Novios Section Registration | Registro de Sección de Novios
Novios Registration - English
Dia De Los Muertos Parade & Festival Novios Registration - English
"*" indicates required fields
Registro de Novios - en Español