AN EXHIBITION IN THE PALM OF YOUR HAND
Waco 52 is a celebration of outstanding artists who live and work in Waco and McLennan County. It captures the spirit of this place that inspires us all, and it is a commitment to be a community that invests in creative talent.
In the spring of 2017, Creative Waco partnered with the Honorable Doc Anderson and the Honorable Kyle Kacal, State Representatives, to host a juried art exhibition featuring artwork by 52 outstanding artists from Waco and McLennan County.  Waco 52 was on display in the ground floor rotunda of the Texas State Capitol in Austin, Texas during the month of May.  The exhibition came to Waco for the month of August in the form of a "pop-up gallery" at 712 Austin Avenue.
The 52 artworks have been made into a set of quality playing cards that are available in selected Waco stores and online (shop below).  The proceeds support new arts initiatives in Waco and McLennan County.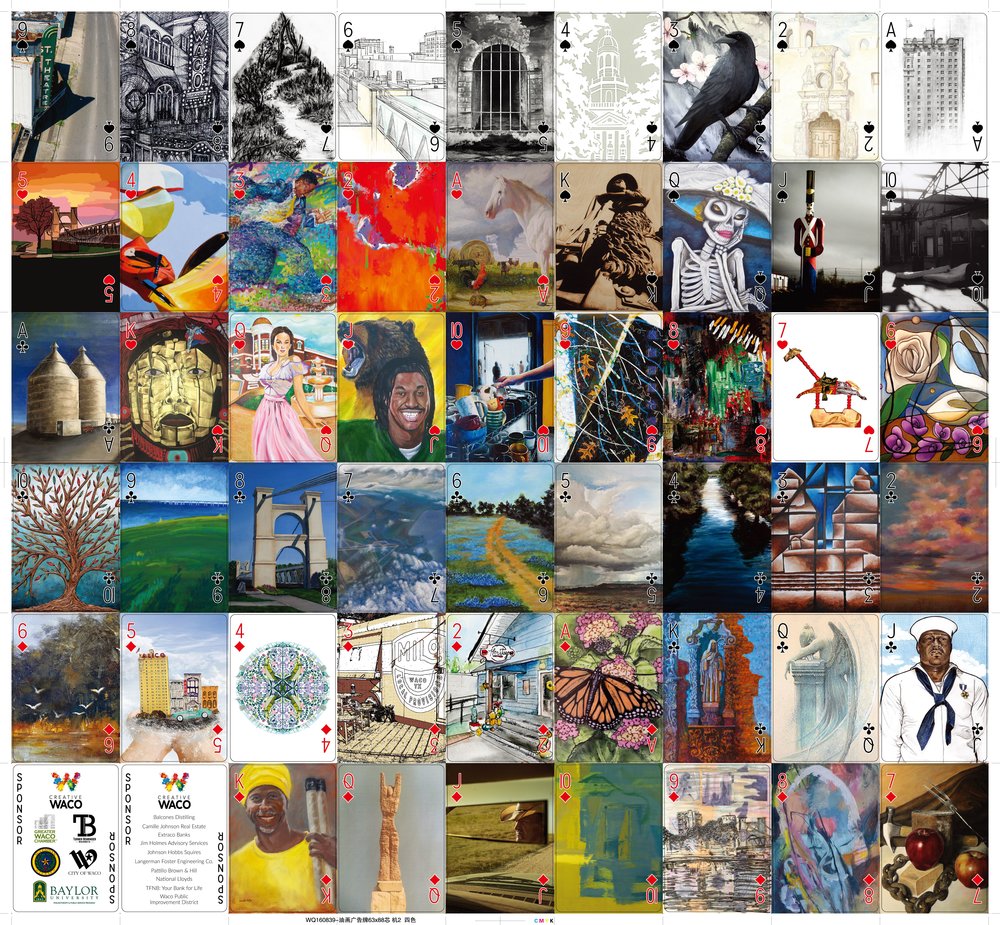 CARDS ALSO AVAILABLE AT THESE FINE VENDORS:
Creative Waco received more than 150 submissions from artists living and working in Waco and McLennan County. Works were selected by judges Martha Peters, vice president of public art for Fort Worth, and Sarah Derrick, director of education and learning for Dundee Contemporary Arts in Scotland. Following hours of review, these two phenomenal judges selected 52 compelling works that highlight the spirit of Waco.
Amado Torres
Benny Fountain
Brad Settles
Bryant Stanton
Carrie Stout
Clarissa Anderson
Deborah Reed Propst
Diane Torres
Elise King
Erica Thorpe
Genaro Barron
Hugo Shi
Jennifer Hobbs
Jessica Tomchesson
Jesus Rivera
Joel Colosimo
Joel Edwards
John Reinke
Jonathan Syltie
Josh Martin
Judi Simon
Julie Milstead
Kacey Byrne
Katherine Makowsky
Kathryn Lairmore
Kay Reinke
Kevin Malone
Kimberly Merck Moore
Kristen Thompson
Lane McCurley
Lauren Steuve
Linda Filgo
Madeleine Dietze
Mark Kieran
Marsha Wilson
Michelangelo Flores
Nathan Trampe
Priscilla Henry
Rebecca Edwards
Rhiannon Rosenbaum
Rocky Kelley
Rolando Saenz
Samuel Torres
Sarah Dyer
Shay MacMorran
Susan Sistrunk
Larsen & Talbert
Talmage Minter
Travis Tarver
Whisper Ledford
Winter Rusiloski
SPECIAL THANKS TO THE SPONSORS OF WACO 52
Michelangelo Level
TJ and Leann Ermoian
Baylor Philanthropy
Turner Behringer
Greater Waco Chamber of Commerce
City of Waco
McLennan County
Picasso Level
Langerman Foster Engineering Company
Johnson Hobbs Squires LLP
Patillo Brown & Hill LLP
TFNB | Your Bank for Life
Camille Johnson, Realtors
Jim Holmes Advisory Services
National Lloyds
Extraco Banks
Balcones Distilling
Downtown Waco