ARTPrenticeship Past Projects
Opportunities for Young Artists. Beauty for Our City.
More than a mural. In the summer of 2018, Creative Waco brought an exceptional new program to Waco. Working with Waco ISD summer interns, the ARTPrenticeship program became in a real-world concept-to-completion mentored work experience for aspiring young creatives that leaves Waco with a new artistic masterpiece. The pilot program was modeled on Cincinnati's award-winning ArtWorks Program. You can find ARTPrenticeship's past work downtown on 2nd and Jackson St., at Brotherwell Brewing on Bridge Street, and at the Martin Luther King Jr. Community Clinic on MLK Jr. Blvd and Herring Avenue.
ARTPrenticeship connects young creatives with local artists to create fresh and eye-catching works of art that reflect the beauty of our community. By collaborating with business owners, sponsors and community leaders, the program provides so much more than a summer internship. If you are passionate about beauty for our city, and want to champion our gifted young creatives in Waco, please consider sponsoring our apprentices! To find out more about the program, check out our frequently asked questions. If you would like to get involved, check out the opportunities below.
ARTPrenticeship 2022
"Reaching Beyond"
1121 Webster Ave, Waco, TX 76701

The images in this mural represent the strides humanity has taken when we've had the courage and audacity to reach beyond our limitations into new possibilities of imagination and innovation. On the right is a rocket blasting into uncharted space, as an astronaut surveys the future. The center depicts advancements in energy and mechatronics, with a turbine engine, wind turbines, and motor blueprint. To the left, biology meets technology, as a robotic hand sparks new possibilities in a strand of DNA.
THIS PROJECT WAS CREATED BY:
Lead Designer
Natalie Ward
Artist Mentors
Tashita Bibles, Cory Lind and Kristen Thompson
Film Mentors
Cory Dickman, Mike Hamilton and Dominic Villa
ARTPrentices
Victoria Delgado, Natalie Erler, Nayeli Flores, Yajaira Martinez, Sara Olguin, Sylvana Prieto, Star Rosas, Ariel Farley, Mario Perales, Cayleigh Scott, and David Tran
Program Director
Stefanie Wheat-Johnson
Program Manager
Sakina Dixon
Intern
Jade Moncrief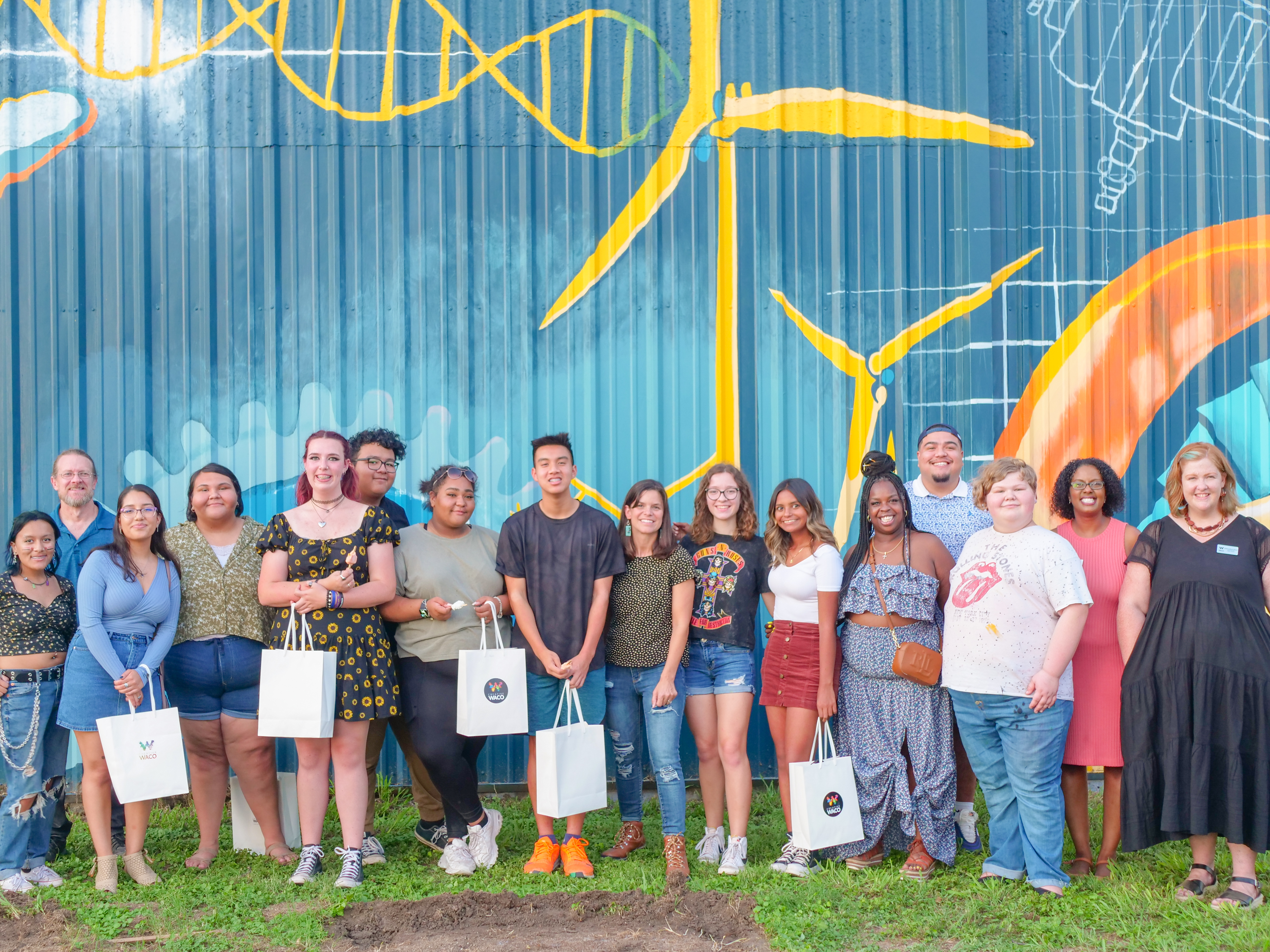 Honoring Terry Stevens
The mural "Reaching Beyond" is dedicated in honor of Terry Stevens (11/1/1941 – 06/27/2021), a founding board member of Creative Waco, and member of the Texas Governor's Aerospace & Aviation Advisory Committee. Terry was a champion for human imagination and ingenuity that draws us higher, further, better and deeper through technology, creativity, entrepreneurship, learning, and community.
ARTPrenticeship 2021
"If you feel up to it you should introduce yourself to a stranger today"
300 S. 5th St, Waco, TX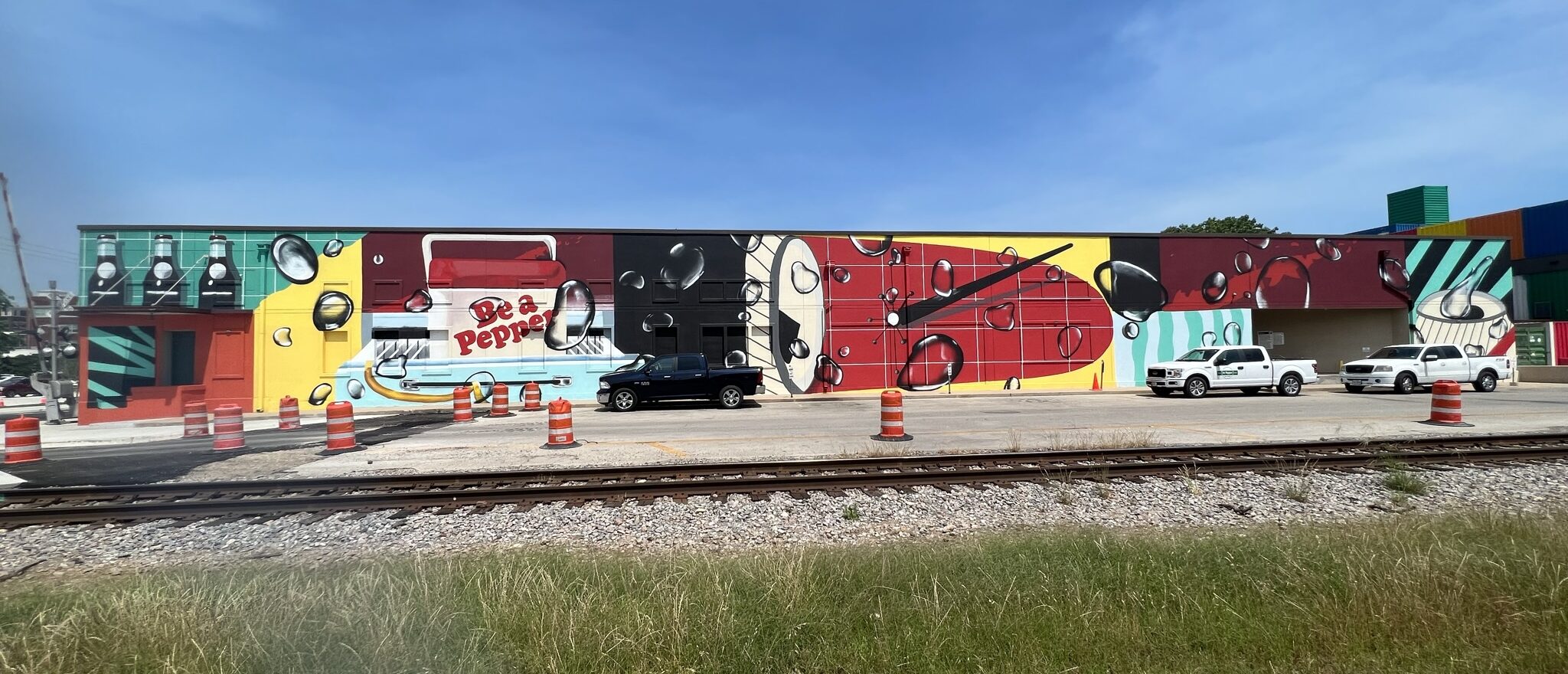 This mural, on the wall of the Dr Pepper Museum, draws inspiration from generations of advertising, images, and art that have been associated with the soft drink industry, and the interplay of Americana with the Waco-origin of Dr Pepper. With a color palette referencing historic advertising, the mural evokes the passage of time; time well spent over a drink with friends, bringing people together, which is a common thread for advertising and also for the mural-making process.
 "The making of the mural connected so many people into each other's lives and I believe its work will continue because of the cumulative energy put forth by everyone at ARTPrenticeship and Creative Waco."
-Mick Burson, lead designer ARTPrenticeship 2021
THIS PROJECT WAS CREATED BY:
Lead Designer
Mick Burson
Artist Mentors
Christal Peterson, Julie Cervantes and Rajesh Solanki
Film Mentors
Cory Dickman, Mike Hamilton and Justin Sanchez
ARTPrentices
Christopher Ramsey, Jade Moncrief, Jasmin Nunez, Jatorrean Mozee (AV), Johanna Angeles, John Segovia (AV), Juvenal Ramos (AV), Karina Jaramillo-Hernandez, Katie (Trouble) Robinson, Leilani Vences (AV), Marisa Sanchez, Micha Morgan, Yajaira Martinez, Tahlia Tran
Program Director
Stefanie Wheat-Johnson
Intern
Truman Cunningham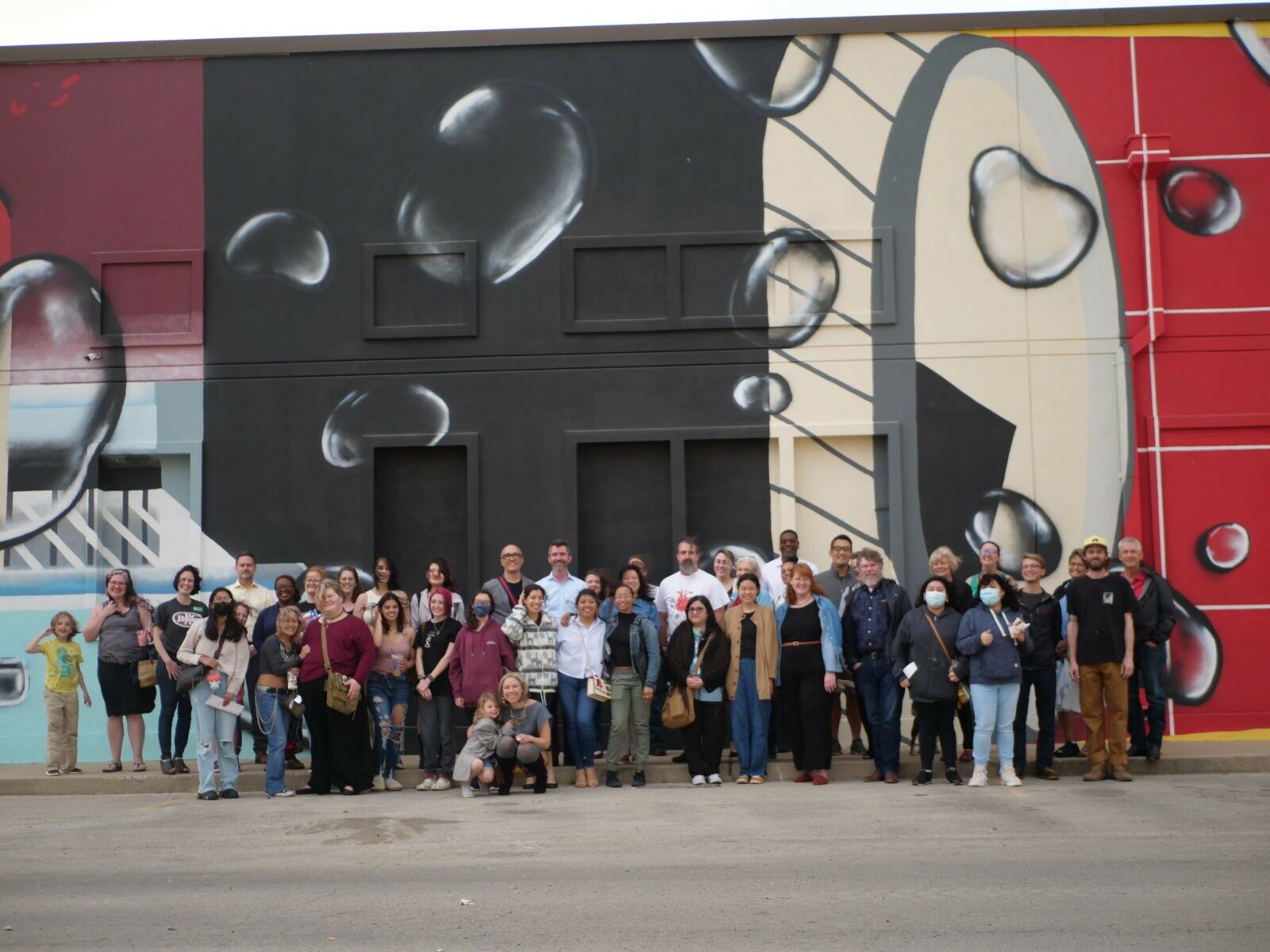 ARTPrenticeship 2020
"Tree of Life"
715 Elm Ave., Waco, TX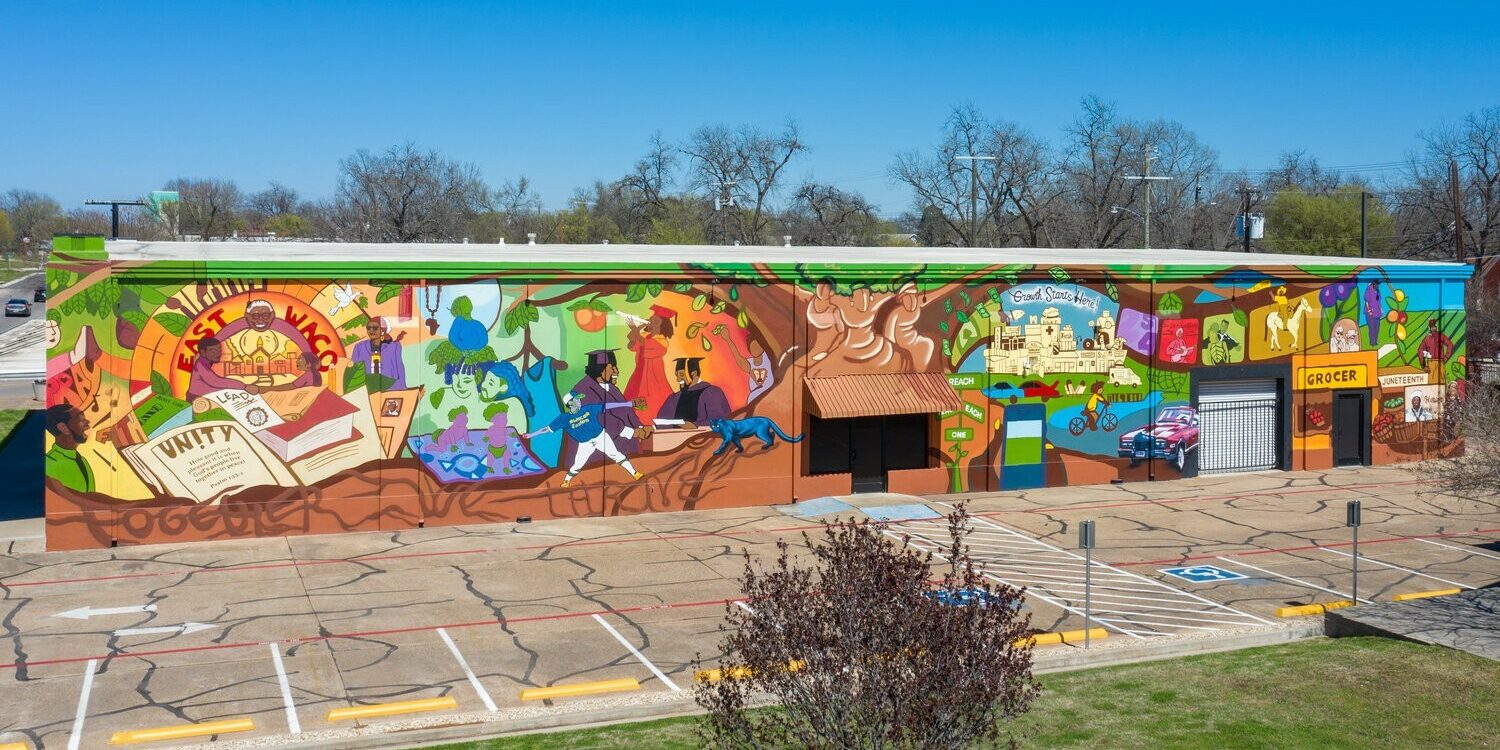 The Tree of Life mural represents the unity that is rooted in community, wisdom, and understanding. Individuals grow from their ancestors, passing along knowledge of how they came to be. The many stories are often intertwined when focusing on a specific place, such as historically rich East Waco. This mural is designed to highlight the flourishing community rooted in Elm Avenue.
Generations of families in East Waco have grown and thrived through hardships and represent a vibrant culture that has often been overlooked and under-appreciated. Co-designers Vincent Thomas and Cade Kegerreis considered this project an opportunity to reflect these rich stories and respect the history of this neighborhood while looking to its future and aspirations.
The wall is naturally divided into 7 panels each represents a day of the week, and a facet of the community's success interwoven with symbolic fruits and stories from East Waco.
Sunday/ Roots of Faith: Sunday celebrates faith, leadership, perseverance, and community love. Religion has always been a way for groups to join for a purpose larger than themselves, sharing in the values of love and acceptance. religion grounds our individual endeavors allowing ideas to connect and flourish into all facets of Life.
Monday/ Budding Family: Monday depicts the flowering of family love. Connection with parents, family and community nourishes a child even before birth, imprinting them with the patterns of family life and allowing developing passions or talents to blossom into purposes beyond childhood.
Tuesday/ Seeds of Wisdom: Tuesday celebrates the importance of knowledge, productivity, curiosity, and collaboration through education and its related opportunities. Body, mind and spirit are cultivated through teachers, mentors and community leaders using their gifts to lead young people into community life.
Wednesday/ Rooted and Reaching: Overall unity is shown through the tree and its three figures. Reflecting pillars of wisdom through tradition, preservation of culture, and sharing of skill and stories in the form of both person and an ancient, sacred tree. The trunk is the heart that connects the roots to the fruit and leaves that are eventually produced. These roots can be seen as the nourishment of a community, and represent those who have gone before. The trunk links past to present and future as it builds and reaches toward the light. The branches, leaves and fruit that radiate from this central trunk display the strength, achievement and potential for future growth and prosperity of the East Waco community.
 Thursday/ Shoots of Prosperity: With the support and care that is represented by the tree, the passions and knowledge from Wednesday's panel have grown into businesses and parks. Historical businesses that once thrived in East Waco are celebrated alongside current and future enterprise. These places have all played a part in the growth and connection of the community, and there is space for you to put yourself in this picture.
 Friday/ Flowers of Legacy: With Friday comes a focus on flourishing focused in creativity and entertainment. Many celebrated musicians, performers, and creatives graced East Waco and bore their fruits of fame across the world. This tradition continues.
Saturday/ Fruits of Hope: After the days spent nurturing and cultivating, the fruit and harvest are symbolic of all areas of flourishing, and also a recollection of the building's original role as a supermarket. The labor turned into the fruit can now be enjoyed and shared to nourish the work ahead. The soil is turned, honoring the memory of those who have passed, and rich with seeds of hope for a brighter future.
THIS PROJECT WAS CREATED BY:
Artist Mentors
Vincent Thomas & Cade Kegerreis (lead designers), Kristen Thompson and Tashita Bibles
Film Mentor
Andreas Zaloumis
ARTPrentices
Jonathan Campos, Vanesa Carvajal, Lina Denson, Rafael Flores, Fate King, Zander Lim, Angelina Monroy, Jasmin Nunez, Lillian Olvera, Larissa Rodriguez, Niala Speedwell, Maria Duarte Tavera, Tahlia Tran, and Ja'Nasia Whitfield
Program Director
Stefanie Wheat-Johnson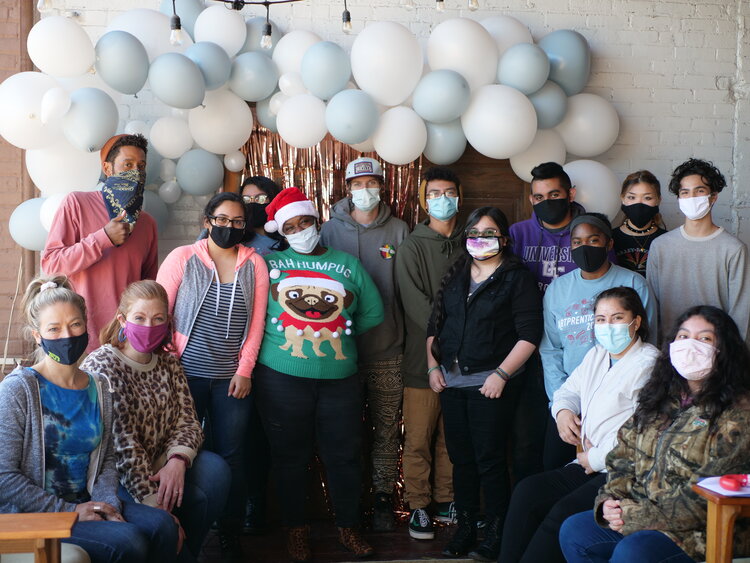 ARTPrenticeship 2020
"A Message of Hope"
The Cove, Waco, TX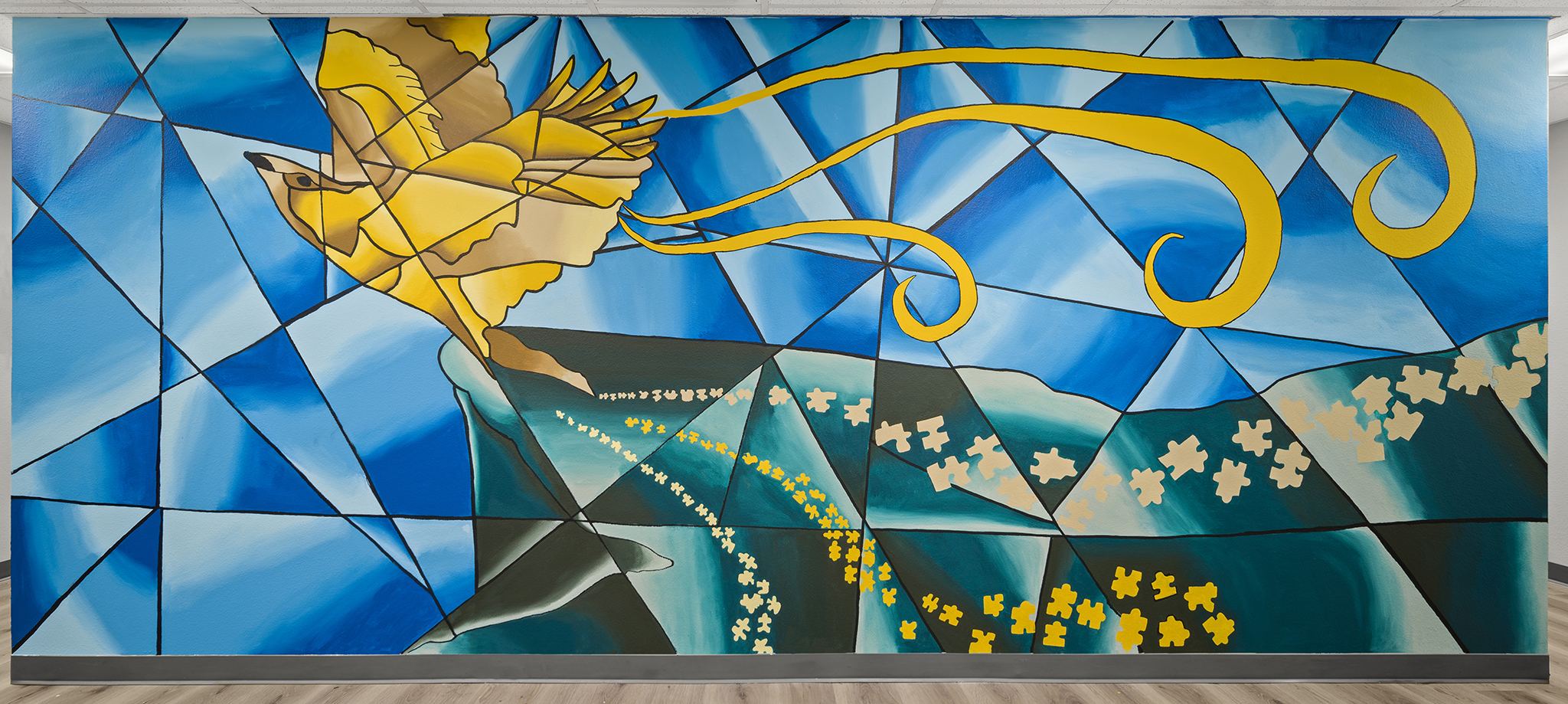 In partnership with The Cove, local artist Julie Cervantes and apprentices Breneisha Thompson, Kelle DeSouza, and Passion Salazar, designed and painted this original work for The Cove in 2020. Sharing the message of hope and how the power of community can help overcome obstacles, the bird represents our highest hopes for every Cove Scholar.
ARTPrenticeship was able to pilot a hybrid program in response to the COVID-19 pandemic that set precedent to resume a full-size program in the fall of 2020.
THIS PROJECT WAS CREATED BY:
Artist Mentors:
Julie Cervantes (lead designer)
ARTPrentices:
Kelle DeSouza, Breneisha Thompson and Passion Salazar
Program Director:
Stefanie Wheat-Johnson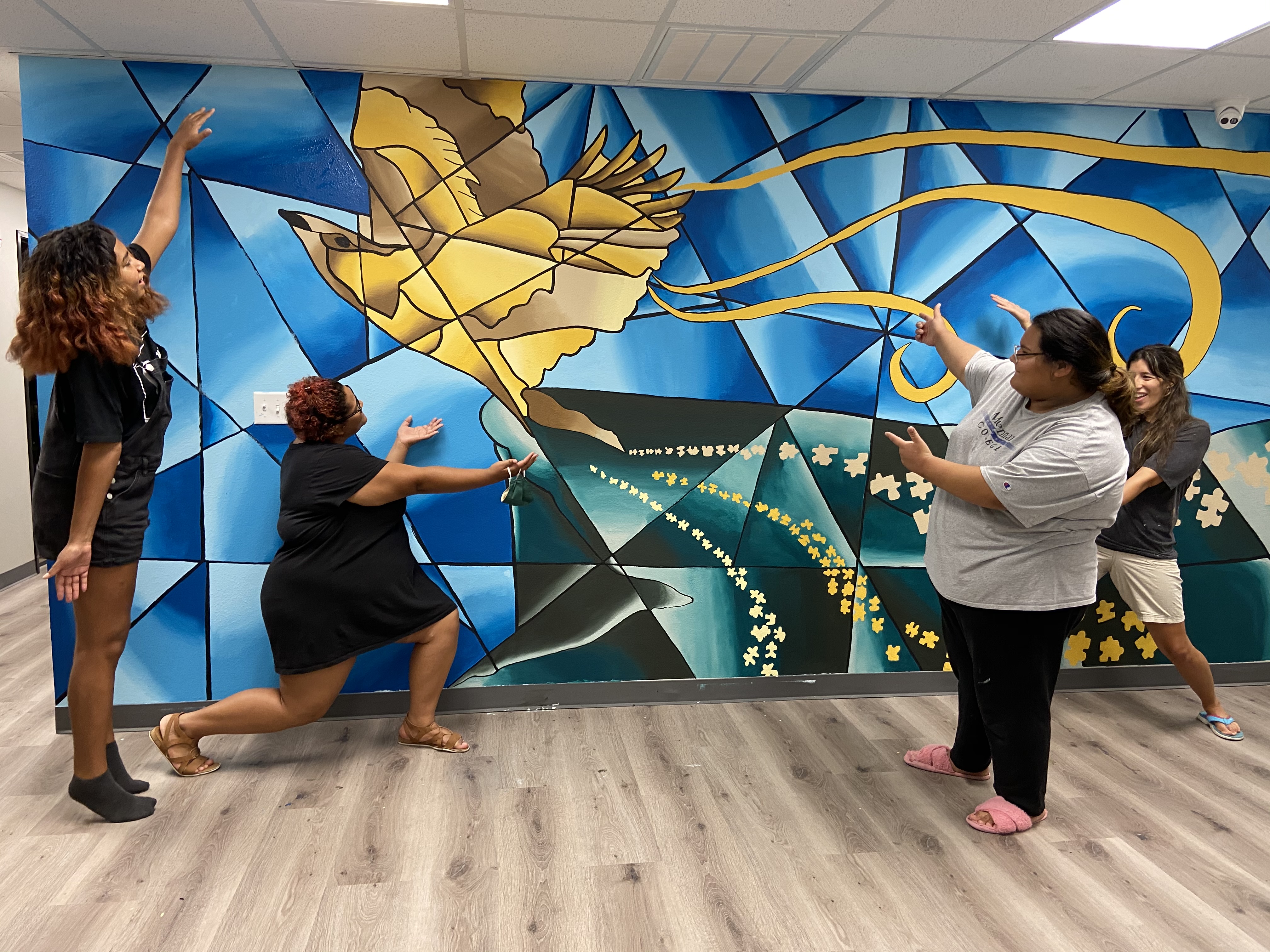 ARTPRenticeship 2019
"The Color of Health"
Waco Family Medicine: MLK Jr. Community Clinic
1911 N M.L.K. Jr Blvd, Waco, TX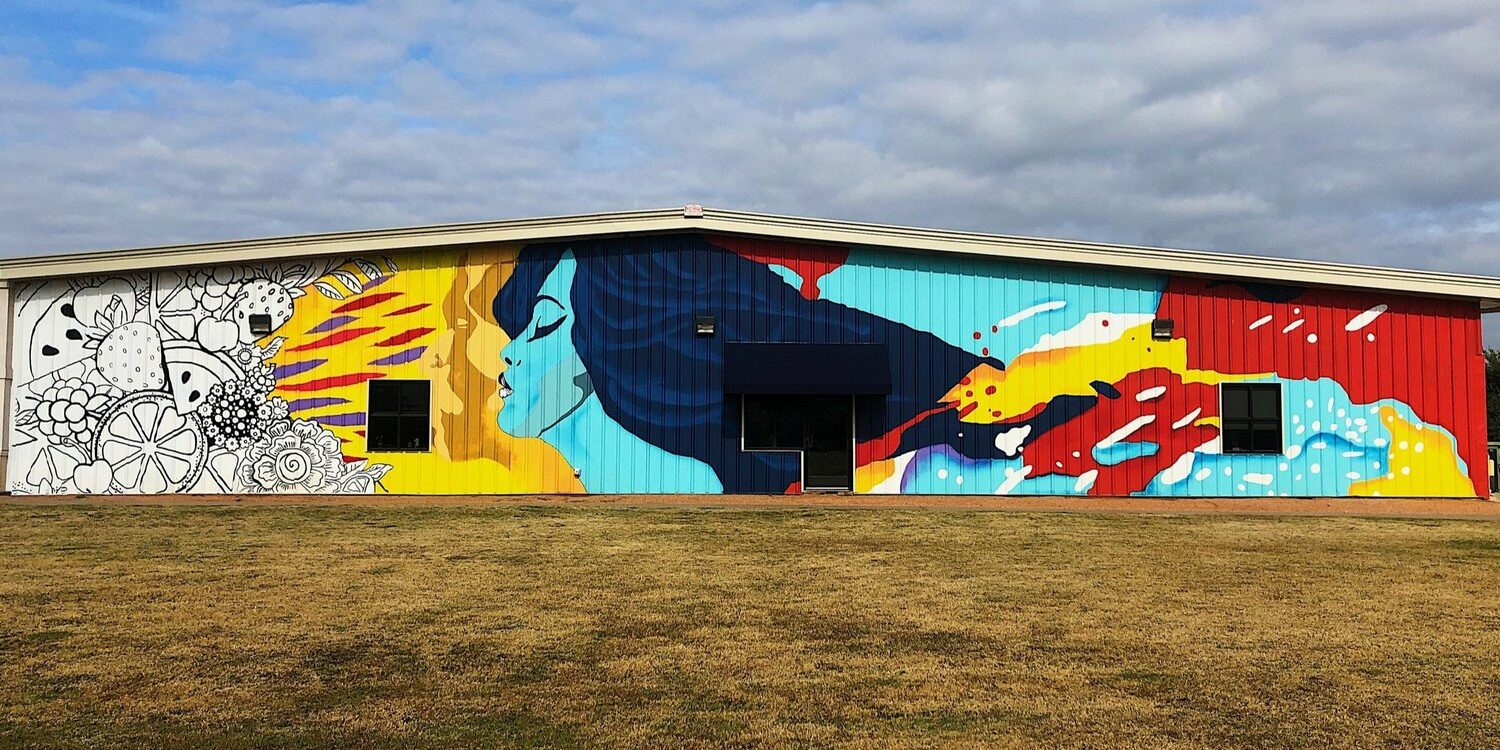 From colorless fruit transforming into life, this vibrant mural pays homage to the past rich history of the caregivers and community members that have called East Waco home for generations, and the future as the community experiences renewed hope and opportunity. "The Color of Health" and "The Spirit of We" celebrate the hands-on work being done within this historic community.
The artwork combines themes the apprentices drew from hearing community leaders talk about the strong neighborhoods surrounding the clinic. They learned about the women who rose up to provide a network of healthcare as midwives and nurses, and whose life mission became the wellness and flourishing of their neighbors. The fruit symbolizes all that we take in or experience that affects our health – individually and together. It has no color of its own. Only through interaction with the woman and the man at her side does it take on color, vibrancy and energy. It's people that are the true fruit of this community.
THIS PROJECT WAS CREATED BY:
Artist Mentors:
Will Suarez (lead designer), Julie Milstead, Susan Sistrunk, and Bethany Franzen
ARTPrentices:
Julius Merriwether, Magnolia Oliphant, Maria Quinones-Prado, Kaeleana Ramirez, Daphne Rodriguez, Danielle Stevens
Program Director:
Stefanie Wheat-Johnson
"The Spirit of We"
Brotherwell Brewing
400 E Bridge St, Waco, TX 76704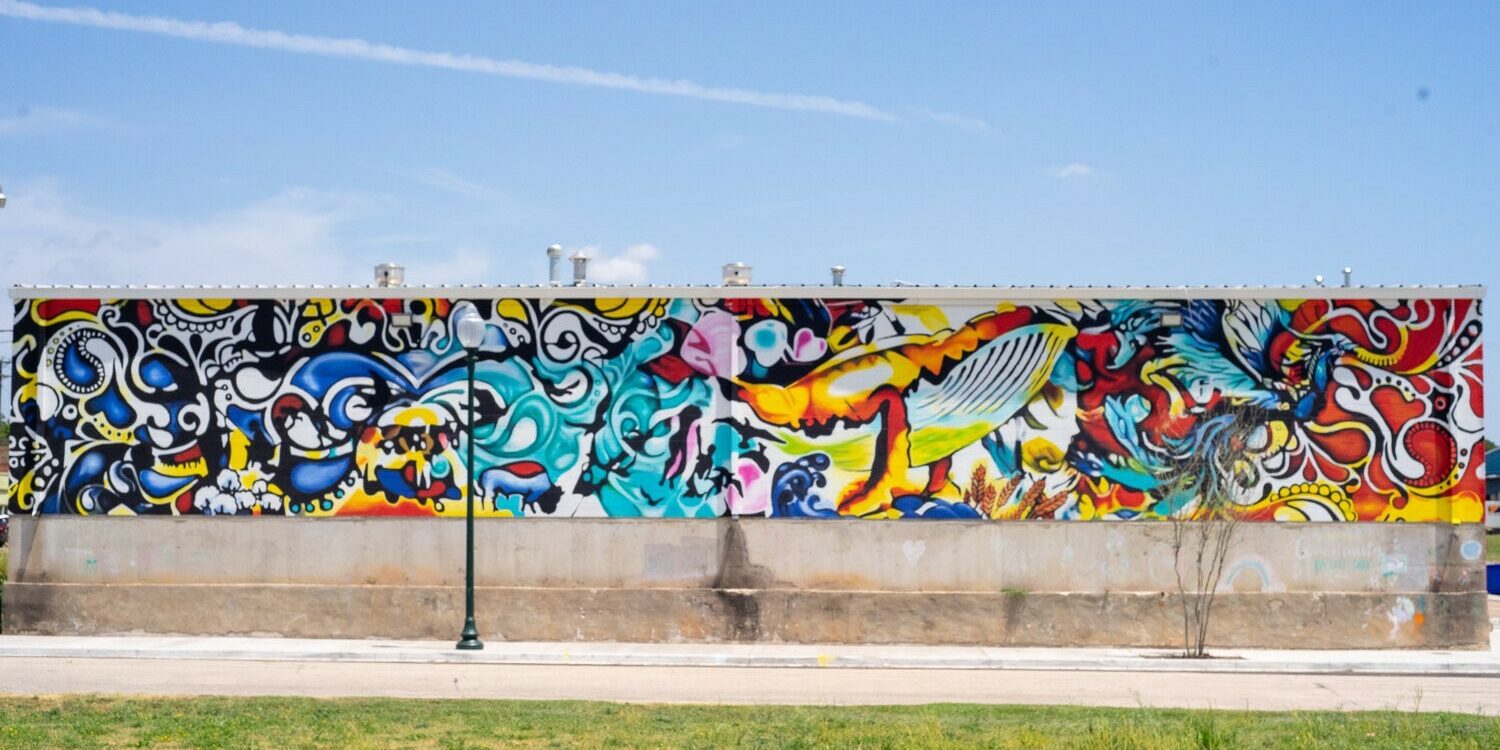 At first glance, this artwork looks abstract. Like listening to jazz on your front porch, it seems like a jumble of color and rhythm. Then, just like jazz, your attention is rewarded, and the patterns and themes weave their magic. The lead designer, New Orleans Artist Richard C. Thomas, is famous throughout the USA for pioneering "visual jazz".
Look closely, and you will see images and symbols. Families, seeds, animals, birds, plants, earth, air, water and fire; the elements of legend, history, and life. Some symbols come together to create larger patterns and pictures: An African mask (symbol of origin), a whale (symbol that sometimes we find ourselves where we did not choose to be), and a phoenix (symbol of rising from what seems hopeless).
The interweaving symbols depict stories the designer and apprentice artists heard from community members as they listened and learned about Bridge Street. Every time you look, you will see a different story emerging. This is "The Spirit of We".
Here is what the lead designer says about the piece:
"We are stronger when we rise together. Together we grow our families, our businesses, our faith, our quality of life, and our community. Every man, woman and child is tied together in our shared destiny. What affects one affects all. We are on the move, and together WE SHALL RISE. This is "The Spirit of We".
THIS PROJECT WAS CREATED BY:
Artist Mentors:
Richard C. Thomas (lead designer), Cade Kegerreis, Shawna Tomes, and Kristen Thompson
ARTPrentices:
Naya Banda, Treshion Bryant, Brenden Kidd, Fate King, Lillian Olvera and IsaBella Thomas
Program Director:
Stefanie Wheat-Johnson
ARTPrenticeship 2018
"1,000 Hopes for Waco"
S. 2nd St & Jackson Ave, Waco, TX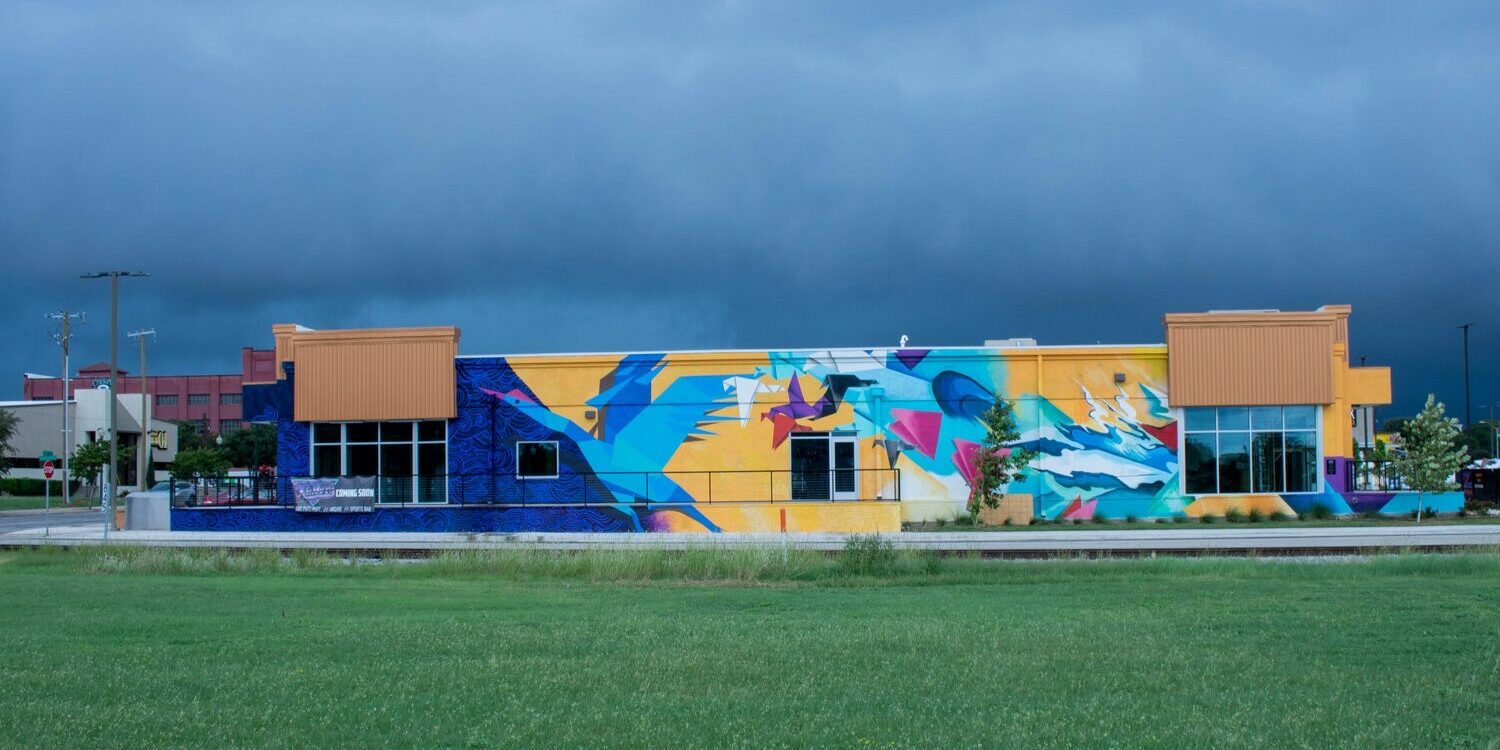 Vibrantly colored origami cranes take flight against a background of swirling gold, transforming as they fly into a living crane skimming over a deep blue river.  Paper ideas become living flesh, and desert gives way to life-giving water. Cranes are symbols of hope, and the cranes flocking at 2nd St and Jackson Ave. are symbols of hope and positive change for a community bursting with possibilities.  "1000 Hopes for Waco" honors the hands-on work being done in our community to bring forth a bright and hopeful future for every part of Waco.
THIS PROJECT WAS CREATED BY:
Design & Teaching
Will Suarez (lead design), Sean Oswald, Megan Morris Major and Cade Kegerreis
ARTPrentices
Naya Banda, Nadia Benett, Lizbeth Duarte, Londell Gilmore, Charla Goosby, Magnolia Oliphant, Willie Padilla, Tamra Richie, Savana Salazar and Joseph Wlazlinski
Project Manager
Stefanie Wheat Johnson
Wall Donors:
Brotherwell Brewing, Dr Pepper Museum, TFNB Your Bank for Life, Triple Win Waco, Turner Behringer and Waco Family Medicine
The awesome organizations and businesses that invested in ARTPrenticeship:
Baylor Philanthropy Project, Billman Painting, City Center Waco, Cooper Foundation, Crowe Barn Builders, Dyer Painting, Delta Alpha Omega Chapter - Alpha Kappa Alpha Sorority Inc., Greater Waco Chamber of Commerce, H.E.B., Keep Waco Loud, The Magnolia Foundation, MC Art Supplies, Merck Asset Management, Mitchell Construction Company Inc., Nightlight Donuts, Pivovar, Rapoport Foundation, Revival Eastside, TFNB - Your Bank For Life, Tru Jamaica, Waco Cha, Waco ISD & GWAMA, Waco Public Improvement District (Beautification Grant), Sherwin-Williams, Turner Behringer, and United Rental
This project would not have been possible without the wonderful sponsorships by:
Ashley Allison & David Dulski, Dr. Soo Battle, Betty & Benjy Bauer, Keith & Curtis Brown, Len & Boyce Brown, Jackye Clayton, Diane & Kyle Deaver, Karina & John Deaver, Virginia DuPuy, Eileen Edwards, Elise Edwards, Rebecca & Joel Edwards, Linda & Dale Fisseler, Heidi & Ottis Foster, Brazos Education Foundation, Bronwen Forbay & Randall Umstead, Elizabeth Fraley, Angela Garcia, Felicia & Somers Goodman, Samantha & Matthew Hardy, Jennifer & Jeff Heinz, Priscilla & David Henry, Hilton Waco, Emily & Matt Iazzetti, Lynn Klatt, Katharine Larson, Missy Larson, Ronda and Sean McCarthy, Robin & Doug McDurham, Cristi & Chris McGowan, Kimberly and Aaron McMillan, Carol Miller, Ema & Don Moes, Kay & Lyndon Olson, Kris and Charlie Olson, Jim Patton, Betsy & Phil Reeder, Jennifer Richie, Sara & Rodney Richie, Hector & Ilda Sabido, Albert Sam, Dianne & Clay Sawyer, David & Karen Schleicher Lisa & Rick Sheldon, Alice & Ken Starr, Terry & Elaine Stevens, Brooke & Heyward Taylor, Elizabeth Taylor, Angela & David Tekell, and Anna & Kent Vanderheiden, Jeremy Vickers
The amazing community members that supported ARTPrenticeship 2019:
Miles D. Adanandus, Nick Alvarado, Andrea Barefield, Marilyn S. Banks, Jeanette Bell, Leon "Mr. Brown" Bell, Fiona Bond, Will Burney, Melvin Carter, Larry Carpenter, Kimble "Kim" Carr, Devin Li and Jaja Chen, Aniceto Charles, Carla Dotson, Cuevas Peacock & Grassroots Community Development, Elise Edwards, Bronwen Forbay, A'Drana "Ms. G" Gooden, Billy Gooden, Weldon Gooden, Nancy Grayson Rebekah and Jeremy Hagman, Jennifer Heinz, Dr. Peaches Henry, Rae Jefferson, Luann Jennings, Robert Jones, Tim Knight, Shirley Langston, Linda Jann Lewis, Janice Matthews, Lester "Mac" McDowell, Dale McCall (GWAMA), Chris McGowan, Hilary & Sean Oswald, Rachel Pate, Kennedy Sam, Justin Sanchez, Iva Smith, Samuel Thomas (DITHFF), Slim Thompson, Shane Turner, Dominic Villa, Terranga Weaver, Fredna White, Rebecca Weller, Jim Winton, Ashley Womack, Danielle Young, Andreas Zaloumis, Artist-N-U (Tashita Bibles), Cincinnati Artworks Program, Frames Etc., Flower and Ink (Veronicka Thompson), Hueco Pedicab, Kurbside Coffee, Lula Jane's, MC Art Supply (Aaron Williams), Milo All Day (Corey McEntyre), Sabor, Quetzal Co. Tacos (Eric Linares), Wine Shoppe (David Mayfield), Woods By Wheat (Bobby Wheat)