Artist Behind the Exhibit: Q&A with Pyrographer Marsha Wilson
By Bradi Zapata
Marketing & PR Intern
In the spring of 2017, Creative Waco partnered with the Honorable Doc Anderson and the Honorable Kyle Kacal, Texas State Representatives, to host a juried art exhibition featuring artwork by 52 outstanding artists from Waco and McLennan County. The exhibition was held in Austin for one month, then came to Waco for a brief period in the form of a pop-up gallery in the building that now houses Cultivate 7Twelve in downtown Waco. After the exhibition, the intricate exhibits were made into the Waco 52 playing cards. Each card in the deck is a different piece from the Waco 52 exhibition. Every card shares a captivating story and is a wonderful way to hold Waco in the palm of a hand.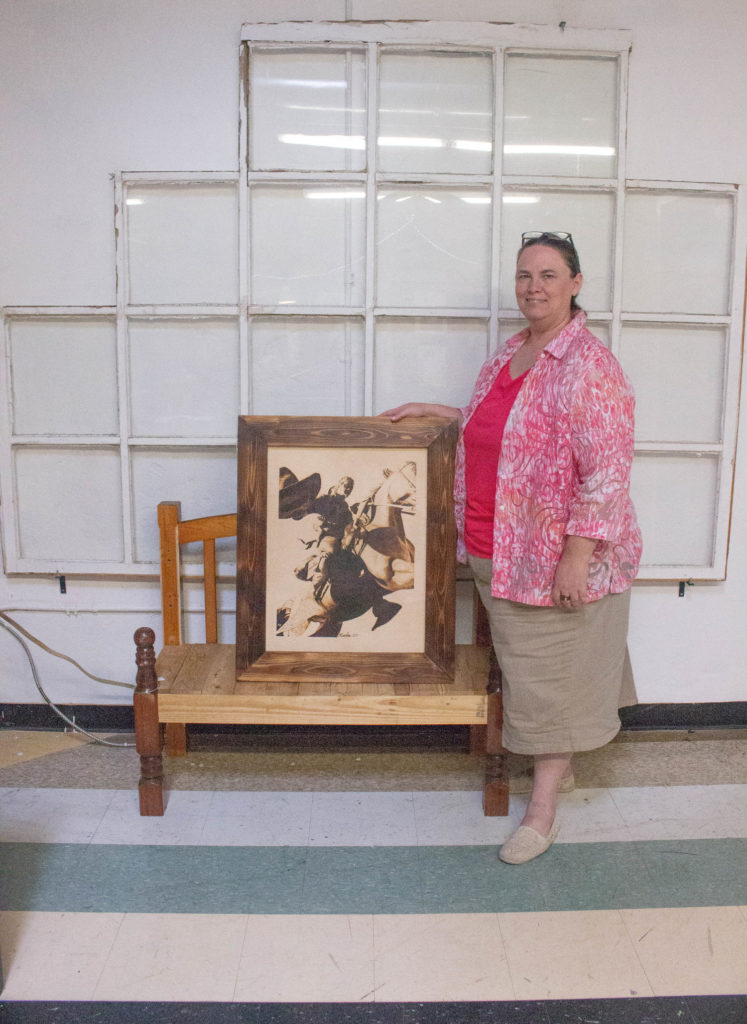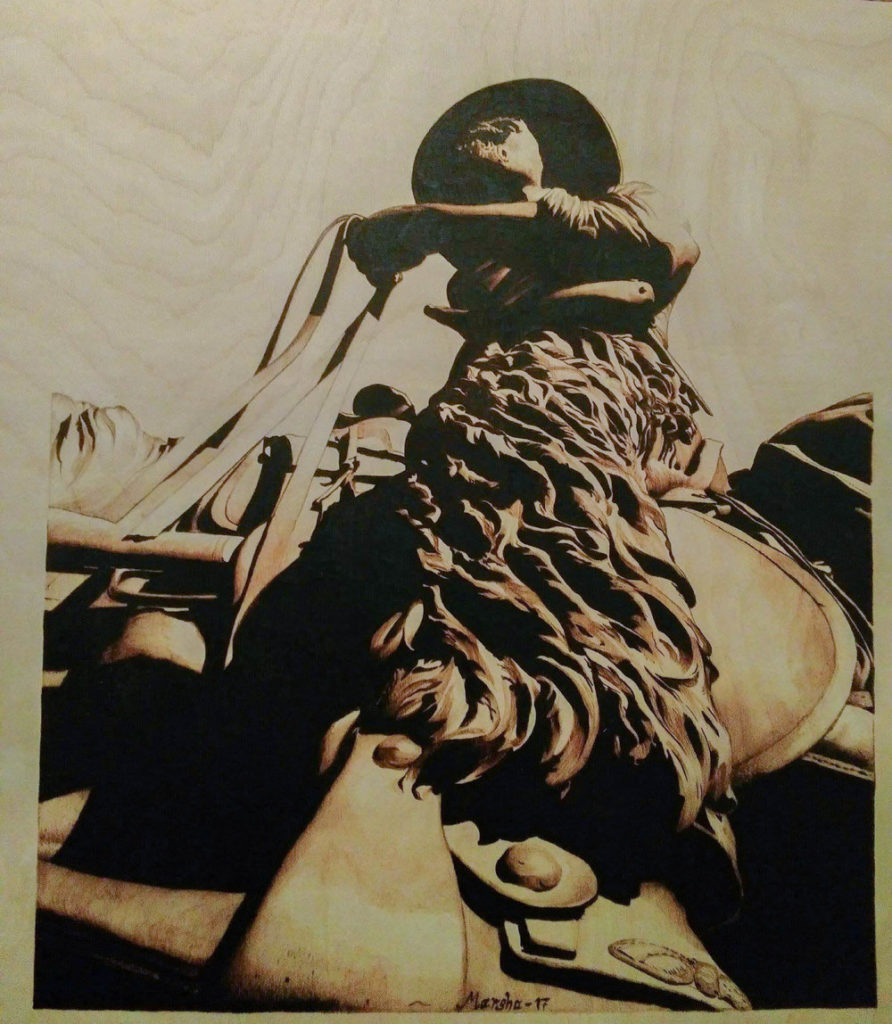 Artist Marsha Wilson pyrographed the exhibit Tall in the Saddle, an interpretation of the African American cowboy statues, located in front of the Waco Suspension Bridge. Pyrographing (commonly referred to as wood burning) is the art of burning a design on wood, paper or leather with heated metal tips of various sizes. Wilson has been pyrographing for 10 years and spends an ample amount of time on each piece she creates; Tall in the Saddle took between 30 to 36 hours. Wilson shares the story behind Tall in the Saddle.
Q: What inspired you to create Tall in the Saddle?
A: [Tall in the Saddle] is inspired by one of the bronze statues down by the river at the suspension bridge. It is actually the African American cowboy [statue] dedicated to the cowboys that rode the Chisholm Trail … that status is larger than life, and looking at it makes you feel like a kid again. As a kid, my mom would take me to the rodeo and there was always a parade, and I remember how big those horses and those cowboys were; I was always super impressed by them. When I walked up to that statue I felt like a kid again. I knew that that was the perspective that I wanted to take; Like you're a little kid looking up.
Q: Did you create any follow-up pieces?
A: I decided to make the series and do the other cowboy statues too. Los Vaquero is the Hispanic cowboy and then the other [pyrograph] is named Trail boss. I love the way that the three of them look together, but that was just absolute accident.
Q: Why did you participate in the Waco 52 exhibition?
A: Fiona Bond [the Creative Waco Executive Director] encouraged me to participate because it would look good on my resume and was internationally judged. [Tall in the Saddle] was not what I originally submitted … but she saw it on Facebook and said 'Marsha submit this one, it's really good!' That was very encouraging, so I did and it was accepted. I think [it was accepted] because it's such a dramatic angle.
Q: Has the Waco 52 exhibition increased the demand of your work?
A: Not that I can tie back to it directly, but I know that since I've been in Waco, the demand for my work has increased and a lot of that is the momentum from Waco 52 and Cultivate 7twelve … All of the exposure that I've gotten has been absolutely wonderful.
Q: How has being in the Waco 52 exhibition impacted you personally, aside from motivating two other pieces?
A: [All of the artists] got to go down to Austin for [the exhibition] and we celebrated with the Texas Representatives and that was just a huge confidence boost. It was the biggest thing that has happened in my art career … to get the feedback from the other artists, state representatives, and somebody like the international judges, I was just totally overwhelmed with encouragement. That was over and above any monetary value.
Q: What advice do you have for other artists?
A: Opportunities are everything, and if you're like I was; sitting at home, doing my own thing at my own little table and only going to art fairs, your opportunities are limited … you have to make yourself available to meet people and talk to people, otherwise you will stay stagnant with your art.
Wilson loves to create bold pieces and make memories into beautiful art, that evokes happiness. After the Waco 52 exhibition, Wilson has had various pieces featured in Cultivate 7twelve art gallery, a gallery in Laguna Beach, CA, the Table Toppers fundraiser put on by Art Center Waco, the Cattle Baron's Ball, the Waco Mardi Gras Ball, and she is looking forward to showcasing a unique pyrograph in a fundraiser put on by UnBound.
Tall in the Saddle is currently hung upon the walls on the second floor in Cultivate 7twelve. Tall in the Saddle in currently on display at Interior Glow. Waco 52 Playing Cards are available in store at many selected retailers, including Cultivate 7twelve, Common Grounds Waco, Christi's, Waco Tourist Information Center, etc. Waco 52 Playing Cards can also be purchased online here.