CWCW: There's New Art on the Block – Globes, Murals & Mammoths, Oh My!
This post is an extension of the Conversations with Creative Waco radio program on 103.3 KWBU fm, where we take you behind the scenes of art and culture in Waco. Catch us on the air every fourth and fifth Friday of the month at 11:30 a.m. and 8 p.m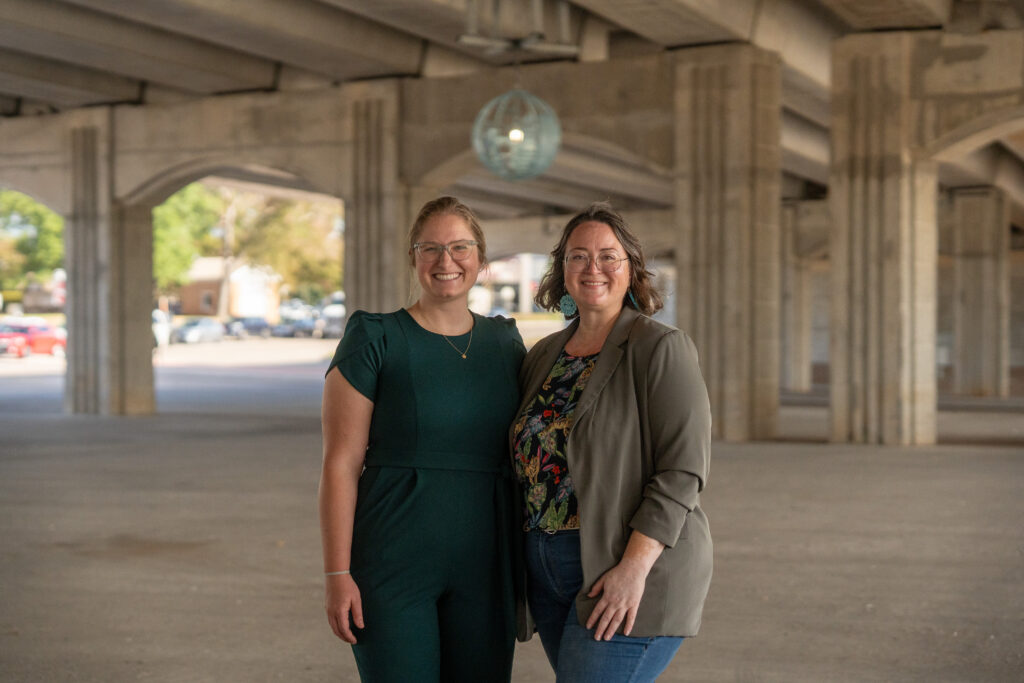 ---
Imagine public spaces as a canvas for the vibrant stories of our community. One of Waco's newest public art installations, a series of six illuminated globes under the I-35 underpass, is doing just that. Created through a collaborative effort involving local sculptors, the City of Waco, Texas DOT, and Creative Waco, this innovative project is redefining our community spaces.
Local artists Morgan Eyring and Andrea La Valleur-Purvis were selected to design and craft these extraordinary 4-foot sculptures. Each globe, a captivating fusion of geometric and organic design elements, serves as a unique storyteller, vividly depicting Waco's rich history, culture, and environment. As the day unfolds, these globes infuse the underpass with a touch of vibrant blues, offering a delightful contrast to the usual monotonous grey of such spaces. Inspired by the Bluebonnet, Texas' State flower, they evoke the hues of the Texas sky that surrounds the spaces. When the sun sets, these sculptures come to life, casting cathedral-like shadows and illuminating the path that connects Downtown Waco and Baylor University.
But this project is more than just a visual spectacle; it's a catalyst for community storytelling. By activating this bustling corridor with captivating art and light, it creates a welcoming environment for those who utilize the space. The public space becomes a canvas for our shared stories, connecting people as they traverse the area, while also supporting cherished community events, like the long-standing tradition of "Church Under the Bridge."
This undertaking exemplifies how public art has the transformative power to breathe new life into our cityscape, inviting everyone to be part of Waco's evolving narrative. Art is not only a medium of expression but a vehicle for community connection—and in this case beacon of light, both literally and metaphorically, in our public spaces.
I-35 Illuminated Globe Project: Morgan Eyring and Andrea La Valleur-Purvis in collaboration with the City of Waco, Texas Department of Transportation, Creative Waco, and Texas Commission on the Arts.
Dive into the inspiration behind each globe here.
Check out a few other public art projects that we have worked on this summer below!
---
ARTPrenticeship 2023 – Hotel Herringbone
ARTPrenticeship celebrated its fifth anniversary this year! We had the honor of creating two murals in partnership with Lucky Find Hospitality for the new Hotel Herringbone property (previously known as The Containery) which will be opening in Spring 2024. Our team of artist mentors and apprentices led the design and execution of the mural featuring the beautiful Texas poppies in the wind. The program also welcomed renowned Hawaii-based artist and muralist Kamea Hadar as lead artist on the corresponding mural!
Fun Fact: Kamea's mural features two of our AP 2023 apprentices!
Waco Regional Airport Renovations – Manca Ahlin
The Waco Regional Airport is getting a new look and new art! Manca Ahlin, a New York-based Slovenian textile artist, installed the first of four new artworks in the passenger terminal this summer. Transport back into the Ice Age and stand beside the Columbian Mammoths that once roamed around Central Texas. The shallow relief artwork depicts a life-sized mammoth and calf using jute and cotton rope and a weaving technique passed down through her family. Stay tuned for updates on the other artworks.
You can learn more about Manca and the project here!